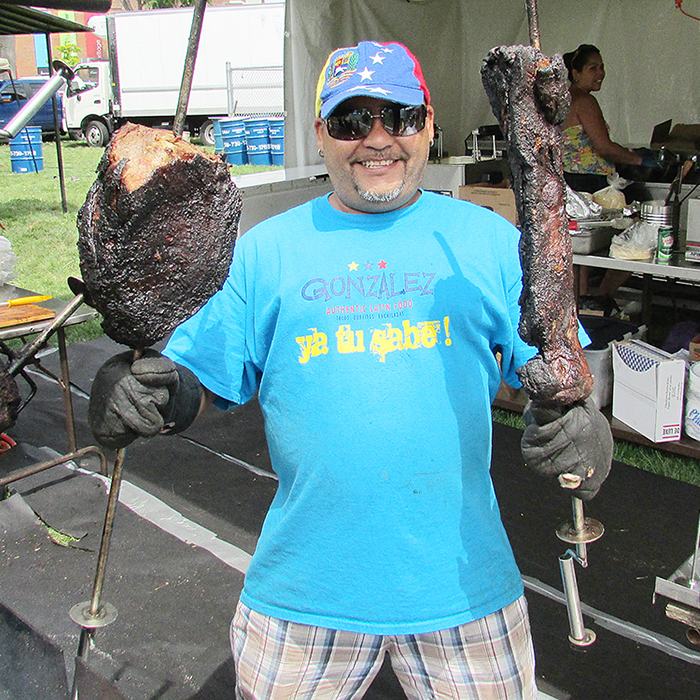 Now that was a great weekend in Chatham-Kent. The weather was perfect for RibFest.
I slid over there Friday for an early bird's view of the event. I was just one of more than 30,000 people to take in the great food and good times over the course of the weekend.
The ribbers were just getting warmed up. They win awards for the quality of their food, but for showmanship as well.
Chatham Mazda from Chatham Voice on Vimeo.
Boss Hogg's Cole Beadle was busy flipping ribs over the flames, and pouring sauce on them from a ridiculous height, but he was saving his vocal chords for the weekend, when the hawking began in earnest.
He, his teammates, and his competitors were indeed busy, as "the kitchen" – the area in front of the ribbers where people lined up for the succulent ribs, as dubbed by organizer Doug Hillier – filled up on the weekend.
And they say there's nothing to do in Chatham-Kent.
Beadle treated me to a sample of Boss Hogg's ribs. I've only made ribs on my Big Green Egg once so far, and, if I could somehow match the Boss Hogg flavour – which earned top choice from the judges on the weekend – I'd be a very happy man.
I also ran into the one and only Jorge Gonzalez at RibFest. He runs Gonzalez Authentic Latin Food, the food truck usually located in front of the Downtown Chatham Centre.
But Jorge also hits special events in the region, including RibFest and the London International Food Festival. He loves to cook, and the passion flows through into his food.
I got a taste of the pork and beef he was cooking. Great bark on the outside, nice and moist on the inside, with great flavour throughout (as usual).
So I went to RibFest for some photographs and left with a full belly. Win, win.
Such great barbecued food Friday was sandwiched between some home cooking. We did up a couple of pork tenderloins Thursday, with baked potatoes and grilled peppers. The first tenderloin was done with a light Dijon mustard coating and Swamp Venom rub, while the second had Worchester sauce and Pineapple Head seasoning. The Swamp Venom is a traditional pork seasoning with a little bit of heat, while the Pineapple Head is slightly sweeter and carries only a little zing.
Both turned out amazing. I couldn't tell you which tenderloin tasted better. But I can say the flavours were very different.
The tenderloins also showed me how much our daughter pays attention. She loves what comes off the Big Green Egg at home. When she looked at the tenderloins after I'd cut a slice off each end, she said exactly what I was thinking: "Nice smoke rings!"
A smoke ring is literally a ring around the meat created during low-and-slow cooking as wood smoke reacts with the meat. It's sought after for presentation purposes, but for me I look at it as a sign of flavour penetration too.
So with tenderloin Thursday, ribs Friday, and leftover tenderloin Saturday, I followed up with a brisket on Sunday.
My wife and I drove over to Buis Beef just outside Chatham last week, and looked into fridges and freezers loaded with beef cuts of all kinds. We had never done a brisket before, and purchased a small four pounder to see what we could do.
We used a liberal amount of coffee rub on the meat, letting it work its way into the brisket overnight Saturday.
Sunday morning, on it went at a low 235 F. Once it hit 160 F, we pulled the meat off and wrapped it in tinfoil, adding about six ounces of a coffee, garlic, barbecue sauce concoction my wife made, and put it back on the grill.
I had planned to cook the brisket to about 200 F, but an impromptu deck party in the backyard of friends Chad and Charlene left me impatient. The brisket had stalled at 170 F – passed the point where the meat was cooked, but not to where I wanted it to go (generally, when you cook meat low and slow, the closer you get to 190-200 F, the more tender the meat).
After a quick chat with Sensei Jeff, I decided to pull the brisket off the Egg, wrap it up and join the party three hours late.
It was awesome! Great flavour and quite tender. It was perfect for sandwiches, but I also cut some off and just passed it around.
We were told brisket can be a difficult cut of meat to cook, as it can be hit or miss. We hit on that one Sunday.