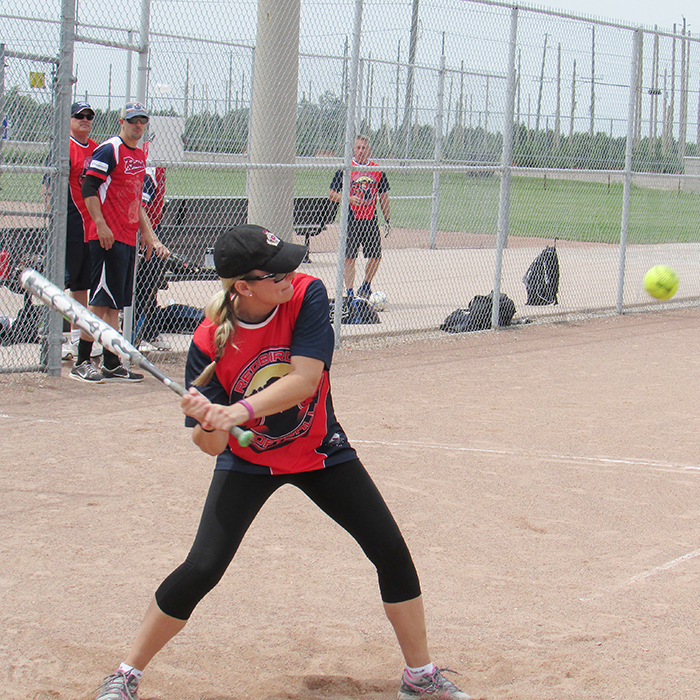 I had the good fortune to cover a couple of police-related activities Friday, and I must say the two are both great casual events.
The first was the annual luncheon put on at the W.I.S.H. Centre by the police association and East Side Pride. Each year, a number of off-duty cops team up with the East Side volunteers to put on the lunch. It's a great way for people in the community to interact with police officers in a casual and fun environment.
With Friday being a P.A. day at schools, there are a fair number of children who had the chance to attend as well.
Chatham Mazda from Chatham Voice on Vimeo.
I didn't get a chance to sample the beef barley soup, chili or sandwiches being offered up, as I had to head across town to check out another group of off-duty officers in action. This time, it was the Night Sticks taking to the ball diamond to play a group of St. Clair College students and staff in a charity three-pitch game.
There were about four or five hecklers in the audience, showing no mercy on each officer coming up to the plate. These guys all dressed the same as well, but weren't members of any gang.
They were uniformed police officers, providing their buddies with some, uh, friendly advice.
And they weren't alone. I'd say most of the police bench took part in fun ribbing.
Another thing I'd say is that it appears a lot of the cops are no strangers to the ball field, or the gym. Some of these folks pounded the snot out of the ball.
Chief Gary Conn suited up for the game, and he was a regular sight in the outfield.
I joked with one of the officers that often the person in charge would take a key spot on the diamond, such as shortstop. The officer laughed and replied, "He knows his limitations. That's what makes him such a good boss."
All in all, everyone had a good time at the game, and students got to see police officers off-duty and relaxed.
Hip, hip hooray!
I got the all clear from Dr. Stone, my orthopedic surgeon, last week. He was as happy with the progress on my hip recovery as I am.
And he cleared me to drive again, bend past 90 degrees, you name it. I'm to continue working on my abductor strength, something the physiotherapists have targeted already.
So during downpour Saturday, we pulled the heightened seat off our upstairs toilet, and began shifting some of my personal stuff back downstairs. That included my shaver and beard trimmer.
With two ladies in the house, I like to spend as little time as possible in the main bathroom in the morning, for obvious reasons. Besides, the basement has long been my territory, with the bar and man-cave setup.
Speaking of soggy Saturday, I think we could have canoed around the backyard. Instead, we went for a boat ride/drive.
We pointed the truck east and headed to Delaware, just outside London. Canadian Outdoor Chefs were cooking a brisket on a Big Green Egg, and we wanted some tips.
Let's just say when it's raining, don't take road trips.
We got there just fine, albeit at a very leisurely pace, thanks to the driving rain. But because of the crap-tastic weather, the folks at the shop hadn't even put on the brisket when we got there around 10:30 a.m.
A quick browse around the store and acquisition of some spices, charcoal and other necessities, and we turned the truck around and headed for home.
We had planned on staying to learn tips and tricks to cooking brisket, as well as visit what I'm told is a great food store around the corner, but the driving rain encouraged us to cut our losses and return home.
Of course, with all the rain, that made for a lousy weekend for barbecuing. I managed to sneak in some burgers Sunday during the power outage and while cleaning off the back patio.
I forgot a few things outside Sunday. I forgot where I put my cane. And forgot I should use the side door, with a railing for support, to come and go. Instead, I used the back steps without relying on the railing or the cane, to come and go between kitchen and barbecue.
I can get used to this feeling of forgetfulness – that is a good sign my hip is almost healed. I can tell you there is less pain than what I suffered prior to surgery.