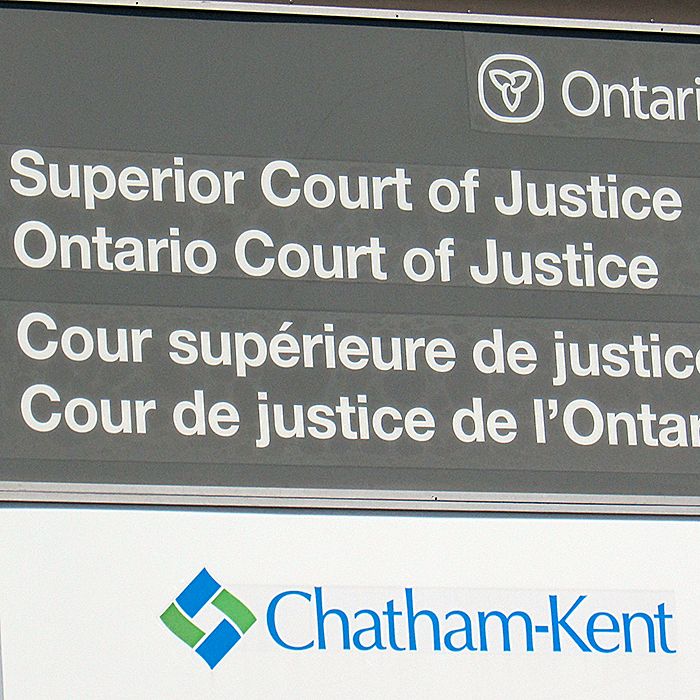 A cold night outside the Chatham Courthouse only served to solidify one advocate's resolve to battle for victim's rights.
Gabrielle Stringer, 43, said she opted to camp out on the court's doorstep after trying and failing to get an emergency motion from a judge to have a local lawyer return files to her.
Chatham Mazda from Chatham Voice on Vimeo.
Stringer, a Sarnia woman, said she's a long-time advocate for social justice, but developed a particular focus to support people who have suffered forms of abuse through the legal system.
"In the last two-and-a-half years, I've been advocating for people whose ex-spouses have used the system as another form of domestic violence," she said.
She said on June 24, after failing to obtain her motion, which relates to paperwork for "someone involved in a domestic abuse situation," she opted to hold a personal protest, deciding to camp outside the courthouse.
"I was not prepared to do this, but I camped out on the courthouse steps last night," she said.
A call to a Chatham-Kent friend for a blanket and other support resulted in a steady flow of people heading to Stringer.
"People were dropping off donations of food and water and telling me their stories," she said.
Stringer said people are taking advantage of the legal system by making unfounded allegations against ex-spouses, often leveraging their children in the process.
"Trying to navigate the court system is exhausting. If you can't afford a lawyer and don't qualify for legal aid, what do you do?" she said. "I've taken a look at these documents and I've gotten emotionally tired from just looking at them. You pretty much have to have a law degree to read these documents."
Stringer said the use of the legal system in this form is clogging up the system, and people are getting away with using their children against their exes.
"Power and control. Children are being literally left in a position where they were living two lives; they're alienated from the other parent," she said.
Stringer said children who wind up in the middle of such a situation can often wind up turning to drugs as a coping mechanism, or doing self-harm.
"They're feeling very much in the middle. As children, we love both parents. They don't have the life skills to process what is going on," she said. "They literally feel abandoned. They feel nobody is listening to what they want."
When allegations made in family court are found to be baseless, Stringer said there is usually no fallout; the person who knowingly lies faces no repercussions.
"It is a criminal offence to falsify an affidavit. This is part of our Criminal Code of Canada," she said. "But family court is the only court that allows this to happen with absolutely no accountability."
Brendan Crowley, a spokesperson for the Ministry of Attorney General, said there are a number of Criminal Code offences a person could be charged with if they write a false affidavit, but laying those charges is the job of the local police service.
"It is the responsibility of the police to investigate and lay criminal charges where they have reasonable grounds to believe that an offence has been committed," he said.
Const. Renee Cowell with the Chatham-Kent Police Service said when a person is found to be lying in the court system, it will be up to the investigating officer and the Crown Attorney to decide whether or not charges are to be laid.
She said often what happens is a victim of domestic violence takes the stand and he or she recants earlier statements.
"To re-victimize the victims (by laying charges), we just will not go there," she said.
But in other cases, when people are found to be lying, there are charges.
"We do have cases where people are charged with public mischief – where they've given a statement and where we can prove they're actually lying. They do get charged," she said.
But when such things occur in family court, police aren't present to witness it. Cowell said no officer is stationed in family court, only criminal court.
She understands some abuse of the system takes place, however.
"Unfortunately, it has come to a point where some people in society use children as pawns when marriages break down," she said.
That hole in the legal system irks Stringer.
"A lot of people lose hope; a lot of people want to end their pain," she said.
When allegations are brought forth, Stringer said it's ultimately a he said-she said situation.
It's her word against his. Fathers' rights have been stripped away many, many years ago," she said. "I'm not pushing for new laws, but the enforcement of the laws that are already in place."