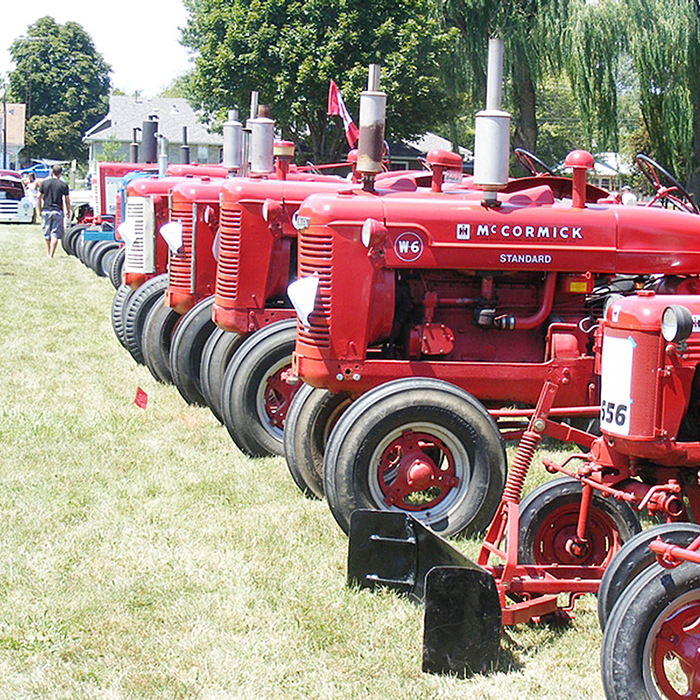 Mitchell's Bay residents don't have any problem combining fun and helping the community at the same time – in fact, they prefer it that way.
Two of the Mitchell's Bay Area Association's summer projects are fast approaching – its fourth annual car show July 18 and its second annual bass tournament Aug. 14 and 15.
Committee member Carol Ann Belanger said the events showcase the community, raise funds for various beautification projects and create a festive atmosphere in the waterfront village.
"It's great to see so much activity in town," she said. "People are in the streets, local businesses are busy and everyone's just having a good time."
Chatham Mazda from Chatham Voice on Vimeo.
Karen Miles, who's heading up the car show, said she has her fingers crossed for good weather this time around.
"Our first year we had a really good turnout but the last two, we have had rain and it's kept entries down," she said. "I think we could get 150 to 200 cars if the weather co-operates."
The show, which lasts from 11 a.m. to 5 p.m., is open to cars, trucks, motorcycles and tractors manufactured before 1995. There is a $10 registration fee. The first 100 participants receive a dash plaque.
A unique feature of the show is that other participant judges entries in the event. Each category has first; second and third awards and winners get a photo on a large trophy that is displayed at Bob N Buoys.
Miles said organizers are planning a full family experience with face painting, a bouncy castle, vendors, a 50/50 draw and, of course, the Mitchell's Bay beach.
"We'd like people to come out, enjoy the show and take in the fun of being at the bay," she said.
In addition, Progressive Ford will be donating $20 to the association and Christ the King School in Wallaceburg for every test drive taken during the show.
The second annual Mitchell's Bay Open Bass Tournament that follows Aug. 14 and 15 is drawing on its inaugural success.
Event chairman Tom Beaton said last year's event drew 30 two-person teams and drew raves from participants.
"We spent about a year researching what we wanted to do, looking at other tournaments and combining them with our ideas," he said.
The result was a unique tournament in which 100% of the $500 per team entry fee is returned to anglers.
"We know that without anglers we don't have a tournament, so we treat them right from the minute they get here until they leave," he said.
On Aug. 14 the event begins with a massive free dinner for participants.
"We have local farmers who donate the meat, the vegetables, everything you need for a good, old-fashioned summer feast," Beaton said. "We're the only tournament that does it that way."
The morning of the event, boats are staged off shore to avoid mass confusion at the start. Anglers bring their catches in where the fish are transferred to a "water weigh in" system that ensures they aren't out of their element.
Afterward, the fish are placed in a live-release boat where they are dispersed throughout the lake. "We give anglers free ice to keep in their live wells to make sure stress on the fish is limited in every way possible," Beaton said. "We didn't lose one fish last year."
The tournament also has an on-site boat mechanic to help with any motor issues.
A favourite part of the event is that it introduces children to the sport.
"We're partnering with Chatham-Kent (Integrated) Children's Services to bring youngsters out to charter boats," Beaton said. "Foster families are invited along and at the end of the day children get to keep rods and reels."
Based on a full field, the prize board could be worth $60,000.
The top five teams brought in more than 100 pounds of fish in 2014.
"Last year we had about 20 local teams and about 10 teams of seasoned tournament fishermen," Beaton said. "We expect that number to increase since we've heard nothing but good things about the event."
The event features a silent auction on a variety of items, including a
Weatherbee shotgun, waterfowl gear and a hand-made landing net.
Committee members say both events rely heavily on the use of community-minded volunteers.
"We have over 50 volunteers," Belanger said. "We see some at both events and some at one or the other. Everyone contributes in his or her own way. We couldn't do it without them."
Funds raised are earmarked for expanding and upgrading the Mitchell's Bay Trail System as well as streetscape improvements in the main part of the village.
For information on the bass tournament, contact cabelanger@mitchellsbayopen.com or tbeaton@mitchellsbayopen.com.
Information on the car show can be obtained at kmiles@mitchellsbay.org or csmith@mitchellsbay.org.