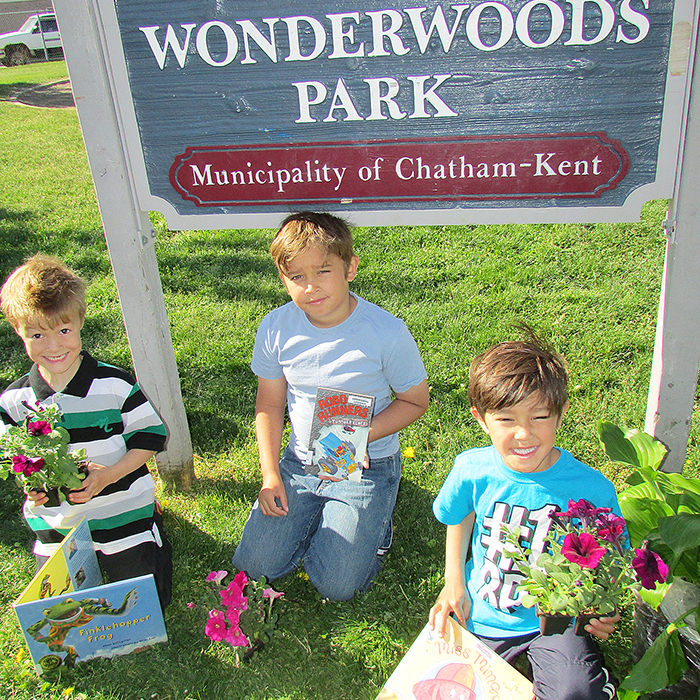 Over coffee and plants recently, neighbours in central Chatham got to know one another a little better and make plans for positive change in their neighbourhood.
The new Central Chatham Neighbourhood Association kicked off its mandate recently in Wonderwoods Park at the corner of Raleigh and Patteson with free plants to help beautify the neighbourhood and a survey to see what changes people would like to see take place, according to spokesperson Mike Grenier.
Chatham Mazda from Chatham Voice on Vimeo.

Sponsored by local Richmond Street businesses Giant Tiger, Tim Horton's and Cats and Dogs Pet Food Store, area residents from the four blocks made up of Richmond to Lacroix and the CN tracks to Lacroix St., were invited to the plant exchange to get their input and participation in creating a healthier, safer and more involved neighbourhood.
"There are also books donated by the Chatham-Kent Library for the kids," Grenier said. "We wanted to inform people about the Association and are circulating a survey asking people what they would like to see happen in our neighbourhood. The end goal is to create a community where you get to know your neighbours and have some pride in your neighbourhood."
Many people took advantage of the chance to come out and see what the Association was all about. Pam Forrest, who lives in the area, was pleased with the event and the chance to make improvements to the area.
"I think it's a great idea. We have a lot of kids in this park so it would be nice to see a little more clean up and have more input on what is happening," Forrest said. "I'd like to see the basketball net go back up."
Also a concern for the area mom is the drug paraphernalia often found in Wonderland Park.
"In the past year, a lot of needles have been found around here and I would like to see this stop," Forrest explained. "It's really nice to see the neighbourhood is taking an interest."
According to Chatham-Kent Police Sgt. Jim Lynds, the event is part of a pilot project for the Chatham Central Community Mobilization Initiative that is about getting people to become active in their communities with the assistance and support of agencies so they can make desired change.
"We are building on the good nature of the residents in the neighbourhood and support them in their endeavours," Lynds said in a release.
Comments
comments