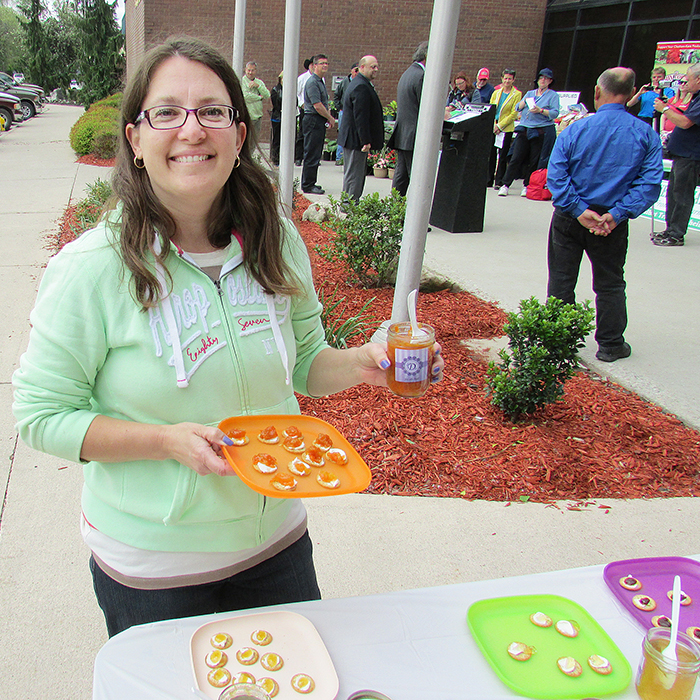 Chatham-Kent may grow for the world but we need to begin eating for ourselves, according to Teresa Bendo, Chatham-Kent's director of public health.
During celebrations marking Local Food Week, Bendo said despite agriculture being the mainstay of the local economy, residents are among the lowest consumers of fruit and vegetables in the province.
"We have higher rates of chronic disease, and a healthy diet of locally grown food would have an impact on that," she said. "Our studies show that eating food grown and produced within 100 miles of Chatham-Kent is important to our citizens. but it's not translating into diet."
Chatham Mazda from Chatham Voice on Vimeo.
During the ceremony at the Civic Centre, a mini farmers' market was set up, and Mayor Randy Hope said demand for space exceeded what was available.
He said the $3 billion local industry is famous around the world, a sentiment echoed by North Kent Coun. Leon Leclair, who said demand is high.
"We just have to figure out how to get our products there," he said. "The world is waiting for us."
Chatham-Kent agricultural specialist Kim Cooper said the community is celebrating those who grow, produce, harvest, buy and sell local food products.
Delhaven Orchards in Cedar Springs will be the recipient of the Feature Industry of the Month, presented by the Chatham-Kent Chamber of Commerce.
Cooper said knowledge is a key in buying local, noting Chatham-Kent has a "Buy Local Buy Fresh" map which shows where you can find what is grown and who grows it.
"These maps are free and you can pick one up at municipal service centres, local libraries, tourism outlets, local agricultural businesses, and at the sites listed on the map. You can also download the map at www.buylocalbuyfreshchathamkent.com."
Cooper said Ontario is a strong supporter of local food. Since 2003, the province has invested more than $116 million in initiatives and projects that help promote and celebrate the good things that are grown, harvested and made in Ontario.