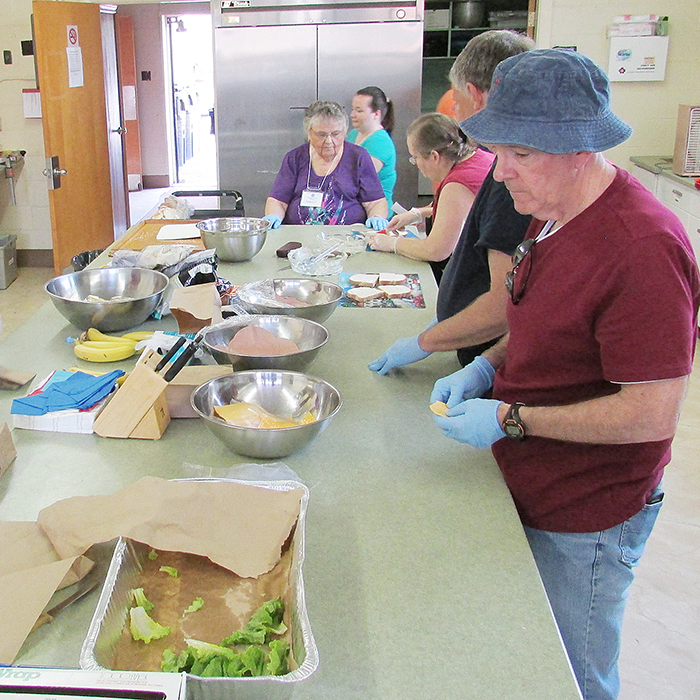 Phoenixes do rise from the ashes. Just ask the volunteers at Vinnie's Friday Lunch soup kitchen.
The organization had its overseer resign earlier this spring, forcing some changes to be made, according to Geraldine Campbell, president of the St. Joseph-St. Ursula St. Vincent de Paul.
"We've rearranged how we do it and how we get supplies," she said.
Those changes make for fresher meals.
Campbell said they get bread, produce and meat from local suppliers.
Maple City Bakery delivers fresh bread each Friday morning. Prodenchuk's drops off fresh vegetables. Schinkel's supplies fresh cold cuts. It's all delivered.
"This saves us all that running around," she said. "Everything is all really fresh. The people are ecstatic about the quality of the sandwiches and everything."
Vinnie's serves a meal to about 100 people each week, Campbell said. It's been doing so for years.
She said it began with students from Ursuline College Chatham serving lunch with the help of a couple of St. Vincent de Paul volunteers.
But schedule changes at UCC forced alterations to the lunch, and soon volunteers and more St. Vincent de Paul members came on board to keep the program going, Campbell said.
All ran well until this past March when Pat Paddon hung up her apron as overseer of the lunch. That led to the most recent changes, Campbell said.
The Vinnie's Friday Lunch opens for business about 10:30 a.m. on Fridays and closes its doors at 11:45 a.m. It runs out of the Spirit and Life Centre at 184 Wellington St. W. in Chatham.
The St. Joseph-St. Ursula St. Vincent de Paul has had a busy last four months. Aside from serving nearly 1,500 people through the lunch, it has also supplied 239 adults and 134 children with 245 bags of food and more than $1,900 in Giant Tiger vouchers, as well as aid with clothing and furniture needs.