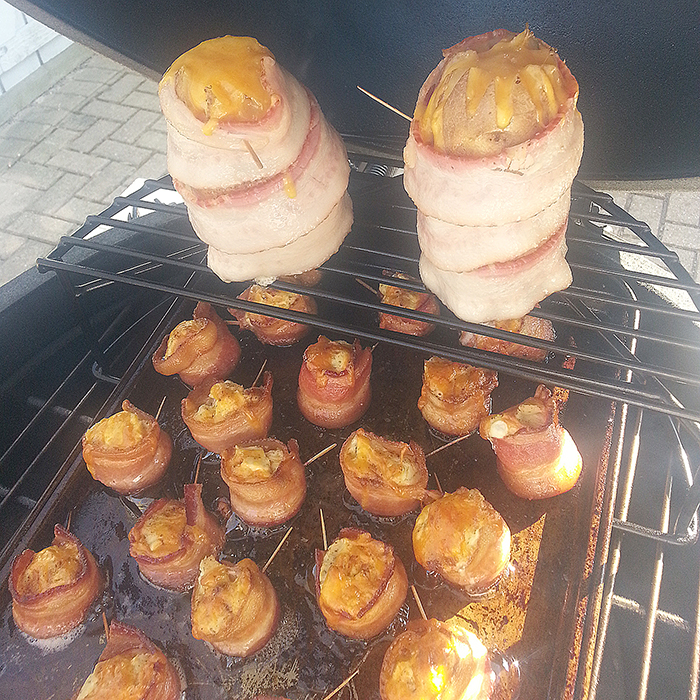 Volcano potatoes and pig shots on the Big Green Egg.
We Corcorans enjoyed a stereotypical weekend for our household at this time of the year: Great food and a whole lot of dance.
Our daughter took part in her third competition of the season. This one was at the Chatham Capitol Theatre.
It's really a great venue for watching performances, but it got a little annoying Saturday. The biggest problem is people walking around during performances.
Now, my kid was on stage for six performances, and given my dislike of pop and rap music, there was no way I was staying in the theatre for 12 hours. So I'd pop in, catch her dance, maybe catch another couple of numbers if I knew kids from her studio were up soon, and then pull the rip chord, bailing until the next time our girl was set to take the stage. (Thanks, Chad, for keeping me hydrated throughout the afternoon, by the way. Dance dads have to stick together).
Chatham Mazda from Chatham Voice on Vimeo.
But I'd bail quickly. When a number was over, I was up and out.
And when I returned to the theatre, I'd grab a seat before the next dance started and look for the back of my wife's head (lots of dance competition practice). When I spied her, I'd check to see if there were any available seats nearby – ones that were easily accessible. If I'd have had to slide halfway down a row, interrupting other folks in the process, I didn't make the move.
The vast majority of parents and grandparents operated in this respectful manner.
But not everyone.
There were people in the front row standing up looking backwards into the crowd as dancers performed on stage; folks slowly strolling down the centre aisles, some even obstructing the competition's photographer and her view of the stage; and folks milling about along the sides of the theatre.
All these dance don'ts to me are disrespectful to the dancers on stage and the people trying to watch the performance, as well as the event organizers.
Prior to our time at the Capitol, we kicked off the weekend celebrating one of my brothers-in-law completing his PhD in engineering. What better way to celebrate than with barbecued food?
I fired up the Big Green Egg and we ate like royalty – pig shots, volcano potatoes, tons of wings, salad (not on the BBQ, but warranted with all that meat), chicken and steak.
The pig shots and volcano potatoes are the latest taste treats I've discovered (the Internet is a wonderful food place).
Pig shots are discs of kielbasa wrapped in bacon – making a meat "shot glass" – and filled with cream cheese, given a splash of hot sauce, topped with cheddar cheese, sprinkled with seasoning, and cooked on indirect heat until the bacon is done.
The volcano potatoes are really easy. First, half bake a potato. Then core out the top two-thirds and fill with layers of meat and cheese. Slice off the very bottom so the potato will stand upright, and wrap it in bacon. Put it back on be barbecue on indirect to finish baking and to cook the bacon. Top with a sour cream/hot sauce blend. It runs down the sides of the potato as a form of edible lava.
Next up came the chicken wings. I filled the barbecue grill twice, and they were essentially inhaled.
Keep in mind, there were eight of us gnawing on all the food, three of whom are aged 12 or 13 and eating like young adults.
A final round of chicken and steak completed the meaty meal.
Total cook time was about three hours. Total grazing time was about the same. For some reason, we had leftover chicken and steak.