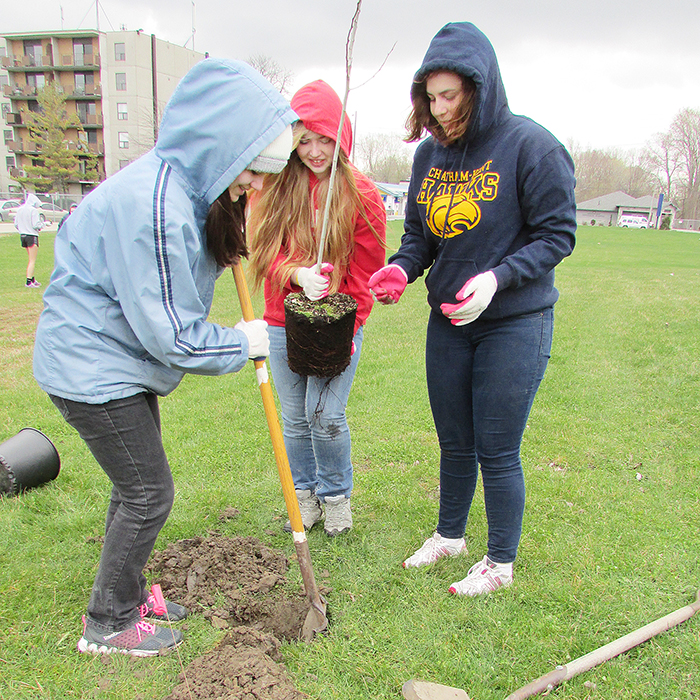 Students from two local high schools churned up soil on Earth Day in an effort to turn a patch of grass into natural habitat.
The students from CKSS and UCC, with direction from Lower Thames Valley Conservation Area personnel and Greening Partnership staff, planted trees and flower plugs on a stretch of raised grass near the Chatham Water Treatment Plant.
Randall Van Wagner, environmental project co-ordinator with the Greening Partnership, said the intent is to turn the area into savanna-like habitat with sparse trees dotting the space, and tall grass and wildflowers throughout.
Van Wagner added the grass that currently covers the area has been treated to die off and will act as mulch while the plantings take root. He said the plan is to have a tractor put down seed in the near future for the tall grass.
Mother Nature didn't make it easy for the students Wednesday. She threw ice pellets, sent rain and snow flurries their way, while adding a lonely bald eagle floating briefly overhead as a distraction.
Van Wagner said the strip of grass off Grand Avenue East is an excellent location for a Carolinian savanna.
"You've got all this wide open space. Why are we mowing it constantly," he said of the property. "There are two corridors near here; the Thames River and the rail line are nearby. It's a great spot to do something like this."
Van Wagner said efforts such as this are not possible without the aid of corporate sponsorship. Union Gas donated $3,000 to fund the initiative.
Bonnie Carey of the LTVCA called the event a "prairie planting celebration" as she addressed the students. She said the municipality has consented to the naturalization of a number of Chatham-Kent-owned properties, including the land near the water treatment plant.
The goals are to increase natural cover, provide a healthy ecosystem and to beautify the community.