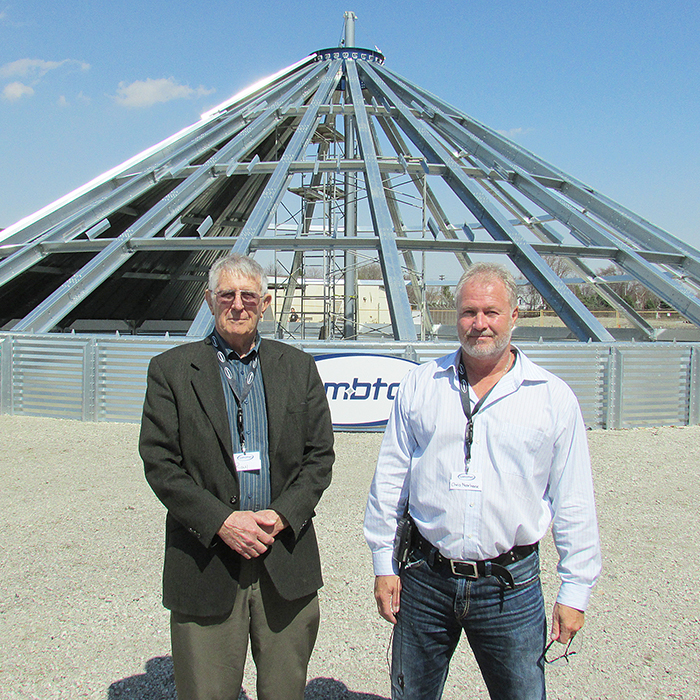 In 1965, Ray Moorhouse went looking for a grain dryer for his farm near Florence. After going through the process, he thought he could find a better way.
That idea has grown into Lambton Conveyor, a multi-million-dollar grain storage and handling manufacturer that celebrated its 50th anniversary last week.
The event attracted more than 200 visitors and was as much a family reunion as it was a business event with former employees stopping by for hugs and burgers as well as tours of the firm's 200,000-square-foot facility on Arnold Street which it purchased three years ago.
Chatham Mazda from Chatham Voice on Vimeo.
Looking back on the firm's beginnings, Ray, now 79, said he listened to his instinct and his fellow farmers.
"I talked to my neighbours and found that there was a real desire for them to control their post-harvest storage and handling," Ray said. "The more I looked into it, the more sure I was that there was an opportunity."
Founded as Stor-Mor, the firm established its first storage and office unit in the 1970s, and in 1979 Ray and his son Chris made the jump to constructing their own products under the Lambton Conveyor name.
In 1997 the firms amalgamated as Lambton Conveyor and established a dealer network through Canada and the U.S.
In 2004 the firm added a facility in Bothwell and opened a plant in China to service the growing Asian market.
The latest move came in 2012 when it purchased the former H.E. Vannatter building on Arnold Street in Wallaceburg.
Ray's son Chris, who now heads up the family business, said he was happy that virtually all of the firm's more than 100 employees came with them to Wallaceburg.
"It's a good feeling to know that you have the type of relationship where there is that loyalty," he said. "We have people who've been with us for years and we really appreciate what they do."
Lambton is well on the way to adding 150 more employees as it rebrands itself as Canada's complete grain storage and handling equipment manufacturer with its "One Source – One Solution" slogan.
Chris said the firm has gradually increased its manufacturing capability from partial bin construction to the finished product along with its longstanding conveyor line.
"We want to be able to control the manufacturing process as much as possible," he said. "It allows us to maintain quality control and keeps prices competitive."
It also allows the firm to make its own innovations.
"We've had to purchase some equipment from France, but we're also using equipment our own employees have made. We're always looking to add something new or increase our quality. It's what keeps us ahead of our competitors."
With Lambton Conveyor products on every continent, the firm is a worldwide leader in its field.
"Someone was telling me they were in Latin America and one of the first things they saw when they got off the plane was one of our storage bins," he said. "It's great that something we made in Wallaceburg can be found around the world."