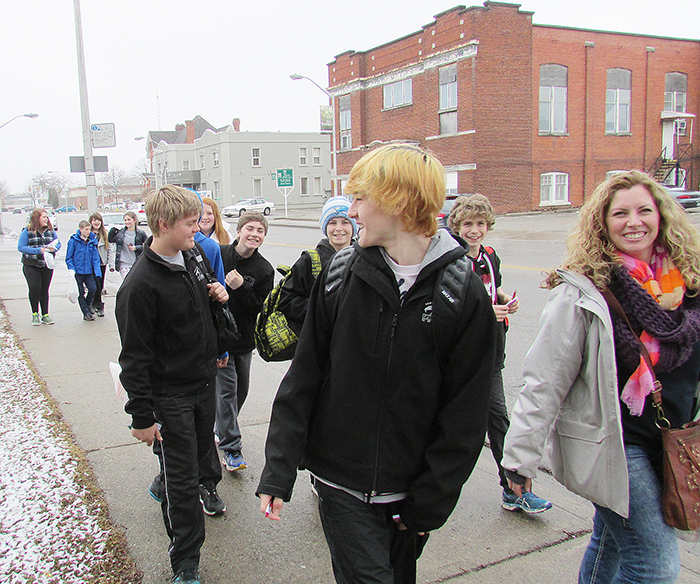 About 70 Grade 8 students from a trio of Chatham elementary schools got a small taste last week of what it's like to take part in the Camino Walk.
The Camino de Santiago is an 800-kilometre pilgrimage trail in Spain. It began centuries ago as a pilgrimage to the relics of the Apostle James, interred in the Cathedral of Santiago de Compostela.
The students – from Georges P. Vanier, St. Joe's and St. Ursula's – didn't embark on such a massive trek March 26, but they did hear from two people who have walked the trail, and got a feel for the dynamics of the adventure.
According to Sue McMath, co-ordinator of youth ministry for St. Joseph and St. Ursula Parish, the walk is modelled on the pilgrimage, where participants take no more than 12 lbs. of items in their backpacks and walk the trail, taking time to reflect on their lives and the need to become more like Jesus Christ.
The El Camino Walk Thursday was a one-day retreat for the Grade 8 students. They left all electronic devices at home and were to take donations to the various charities they visited that day.
Richard and Fran Lucid of Ridgetown have done the real walk, and they talked about it to the students. Geraldine Campbell, president of the St. Joseph-St. Ursula St. Vincent de Paul, said the kids were glued to the presentation.
Afterwards, the students left the Spirit and Life Centre on Wellington Street, taking their donations to Outreach for Hunger, St. Vincent de Paul's Store, the W.I.S.H. Centre, and Canada Feeds the Children.
Participant Alex Bechard of Georges P. Vanier, said the day was "really motivating," especially the presentation by the Lucids.
"Today, it's a bit representative of what it's like to do the walk," she said. "We all felt like how it is to do a little walk and help others."
Evan McGregor, also from Vanier, considered the day a snapshot of "a journey through life."