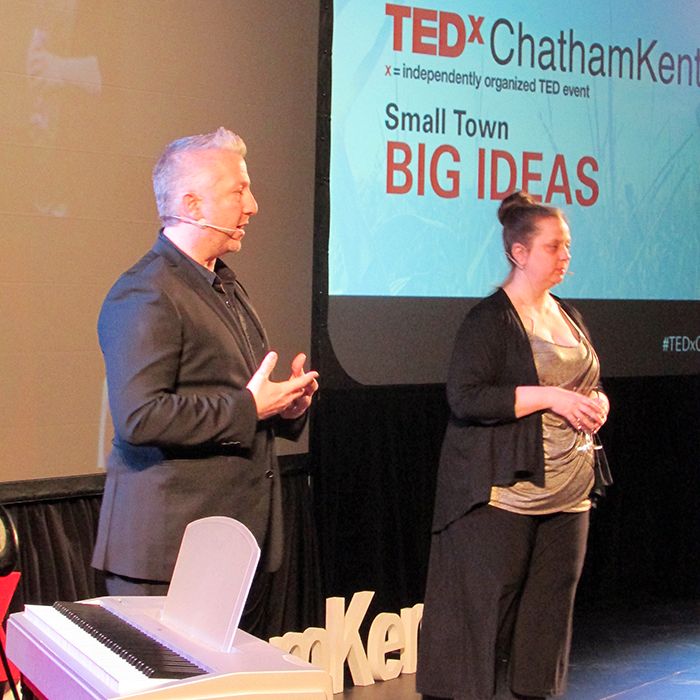 Brother and sister John and Andrea Lyons speak at the opening of TEDx Chatham-Kent last year.
TEDx will pedal into the John D. Bradley Convention Centre again this year.
The speaker's forum first landed in Chatham in February of 2014, thanks to the efforts of organizers John Lyons, Brandon Houston, Fannie Vavoulis and Peter Martin.
Lyons said Houston's busy schedule has forced him to the sidelines this year, but the remaining trio is busy looking at speaking inquiries.
Chatham Mazda from Chatham Voice on Vimeo.
TED – which stands for Technology, Entertainment and Design – is a non-profit concept devoted to ideas worth spreading. It hosts large-scale speaker conferences, but also allows its name to be used with smaller events, such as the one held in Chatham.
Last year's TEDx Chatham theme was "Small Town, Big Ideas," and about a dozen speakers addressed the gathering on a variety of topics related to the theme.
This time around, Lyons said the theme is Food for Thought.
"We'll have a slight ag leaning. We don't want to make it an ag event, however. We want to celebrate what's important to Chatham-Kent," he said.
Detroit native Jason Hall will Slow Roll his way to the speaker's podium as a focal speaker at this year's event, which will take place April 23. Hall and Mike MacKool founded Slow Roll, a casual weekly cycling event through sections of Detroit. Their rides have grown from a couple of dozen riders to a couple of thousand.
Lyons called landing Hall for the event "a coup," and credited Vavoulis for making it happen.
"Fannie just called him out of the blue. It was amazing."
Organizers pushed TEDx back this year due to Mother Nature.
"Last year, we held it in February. We had a beautiful day, but the Thursday before and the Thursday afterwards were just brutal," Lyons said of the weather.
Avoiding March Break and Easter as well, the organizers opted for the late April date.
Lyons said organizers were thrilled with the 2014 TEDx results.
"It went over awesome. We were really, really happy," he said. "The TEDx name carries some weight."
Lyons said organizers expect to announce four more speakers in the coming weeks, as they continue to sift through a deep list of requests. Unfortunately, some don't mesh with the theme.
"The applications are pouring in. They're coming from as far away as Toronto. Some are professional motivational speaker types. Some are really good, but don't really fit our theme," he said.
Tickets to the event have already gone on sale.
Comments
comments