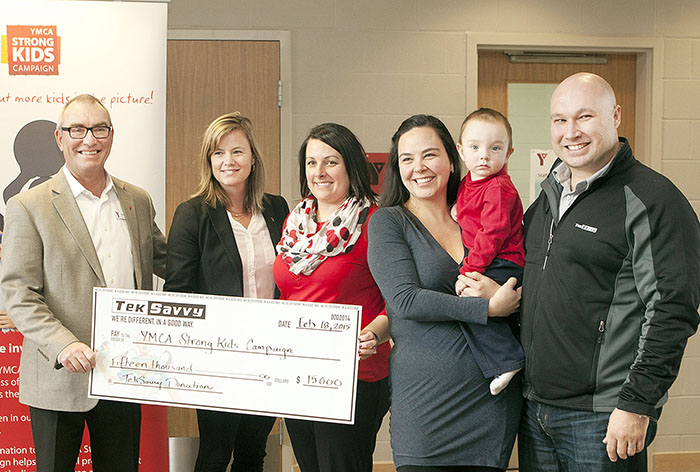 The Chatham-Kent YMCA is doing some heavy lifting, and local firm TekSavvy helped with the first few reps of the 2015 Strong Kids Campaign.
This year's goal for the fundraising program is $106,500, and TekSavvy opened the campaign by donating $15,000.
Tina Furlan, director of marketing and communications for TekSavvy, said the firm has long been a supporter of the YMCA.
"We've been donating since the new Y was put in in 2010," she said. "It's close to the hearts of the Gaudraults. (TekSavvy owner) Mark (Gaudrault) just wanted to carry on with the tradition."
Chatham Mazda from Chatham Voice on Vimeo.
TekSavvy contributes to a number of local charities each year.
"Generally speaking, we tend to focus most of our dollars on the community and things that give kids something today," Furlan said. "I think every sponsorship dollar we have typically benefits youth in some way. It's just a good fit."
The annual Strong Kids Campaign helps fund local YMCA programs that help better the lives of children and youth from families with financial barriers. Strong Kids helps give them access to recreation, healthy environments and good nutrition.
Strong Kids helps more than 2,400 kids each year.
"We want to provide opportunities for young people to reach their potential achieve their goals and improve their lives," Jim Janzen, CEO of YMCAs across Southwestern Ontario, said in a media release. "Last year, one in six kids coming to a YMCA Health, Fitness & Aquatic Centre required financial assistance, and that need continues. The YMCA Strong Kids Fundraising Campaign helps eliminate the very real financial barriers these children face, and without it we would not be able to serve them."
The Strong Kids Campaign runs until April 30. For details, visit www.ystrongkids.ca.
Comments
comments