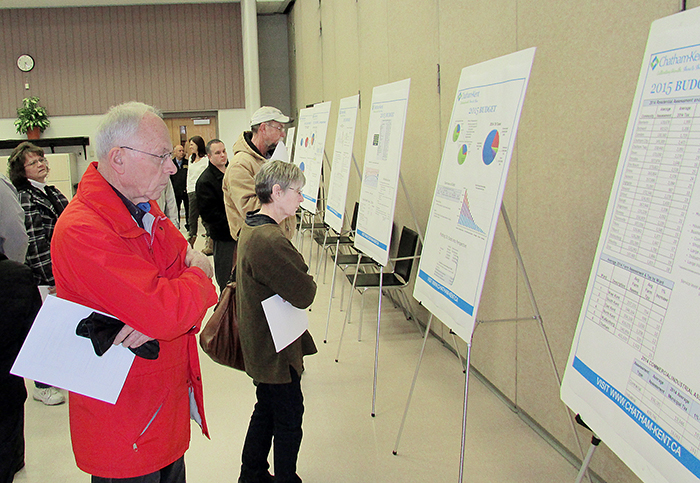 Council asked for it, and Chatham delivered Thursday.
The third and final public input session for the 2015 municipal budget went 2.5 hours, an hour longer than scheduled, as concerned citizens fired questions and comments at municipal staff and budget chair Derek Robertson.
More than 50 people turned out to the meeting, held late in the afternoon at the Active Lifestyle Centre. In there were more than a few municipal staff members and seven councillors, as well as a number of very vocal citizens.
Chatham Mazda from Chatham Voice on Vimeo.
Questions ranged from infrastructure to wages, to services, with the underlying theme being that of fiscal prudence.
Michael Murphy attended Thursday out of sheer curiosity.
"I am a taxpayer. Taxes keep going up and I want to know why," he said, adding he was also realistic in terms of tax hikes. "I don't really think 0% is achievable. A modest tax increase is necessary if you want to keep the community viable."
Several people commented that while workers in the private sector have dealt with wage freezes, job losses, and benefit package reductions, it seemed the municipal staff was well insulated.
Those in attendance learned 2,200 people work for the municipality, though many are part time. CAO Don Shropshire said their combined hours work out to 1,400 full-time equivalent positions. That includes 400 people who work at municipal long-term care facilities, jobs that are mandated by the province.
Shropshire added 31 people were laid off last year.
He said the population decline in C-K in recent years doesn't necessarily translate to a requirement that municipal staff be reduced as well.
"The majority of the services we provide don't change if there's a drop in the number of people. We still have roads to plow, we still have to test the quality of our drinking water," Shropshire said.
Larry Vellinga, who ran for council last fall, said tax increases, compounded since 2006, amount to a 32% increase over that time.
"The No. 1 issue during the campaign was taxes. And 0%, that was the mandate. That should have been presented," he said of Coun. Doug Sulman's request to administration to bring back options for council for a 0% tax increase this year.
Council got a look at those options Jan. 20 and did not like what it saw in a host of areas.
"There was an awfully ugly list attached to it," Robertson said, referring to three pages of proposed service review cuts council had already discarded two years ago. Those included the closure of libraries, volunteer fire stations and the Sydenham Pool.
Robertson and staff also addressed concerns of the rising cost of salaries in emergency services, especially policing. Dennis Poole, chief of the Chatham-Kent Police Service, said a big issue is the "3, 6, 9" retention pay problem. In the early 2000s, Toronto was suffering a draining of police officers and developed a pay structure where officers received bonuses of 3%, 6% and 9% when they'd been with the service for various numbers of years.
Provincial arbitration let that bonus system spread like wildfire to other police services around Ontario, including Chatham-Kent and other communities whose quality of life attributes were actually luring officers out of the Greater Toronto Area.
"We are stuck with this," Poole said, adding chiefs of police and police services boards have lobbied for change for years. "Baby steps are being taken when all of us need strides."
John Sigurjonsson, a founder of the Citizen Coalition on social media, bucked the general trend of the night, as he cited concerns council wasn't spending enough in certain areas, from tree planting to providing for housing for the disadvantaged.
Robertson said Thursday's public meeting was "the most vibrant session I've been involved with" in his time on council. We've had good, positive feedback from the public," he said of the public input sessions. "The accountability for the budget result now lies with council."
Robertson and his peers will get busy with just that starting Tuesday.
Comments
comments