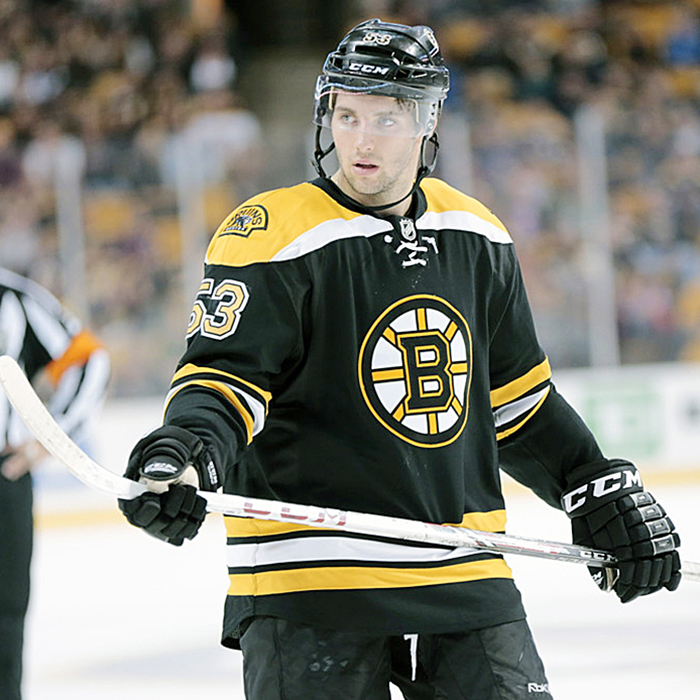 Growing up as your team's leading scorer, defense often isn't a part of the job. You're expected to score, and others take care of stopping goals.
Seth Griffith, has always been that scorer. Now, however, with his first NHL campaign underway, he's expected to play in all areas of the ice, and it's a role Griffith is embracing.
For Griffith, it's not so much a change in role, as the Wallaceburg native is still expected to score, as he did in minor hockey with the Chatham-Kent Cyclones, Jr. B in St. Marys, OHL with London, and AHL in Providence, rather, it's added responsibility.
"My role hasn't necessarily changed," said Griffith who has spent much of this season with the NHL's Boston Bruins. "It's just more responsibility on you to do things in both ends. It doesn't matter how many points you're getting if you get scored on. You have to take care of your own end first, which translates into offensive chances.
"The Bruins win Cups, and are a winning team every year, and you just see guys doing whatever it takes to continue winning," added Griffith.
Despite his team first mentality, Griffith, who turns 22 in January, has had a season of individual firsts as well, including his first NHL game and first NHL goal.
"It was an unbelievable feeling, I was happy that my parents were there," Griffith said about making his NHL debut.
Even in that debut, however, the achievement of a lifetime goal, Griffith put his team success before personal accomplishment.
"Obviously it didn't end the way we wanted. We ended up losing; getting scored on with one-second left, but it was one of my dreams come true."
Three games later, Griffith scored his first NHL goal, and then, dominated the highlight reels in successive weeks in early November scoring breathtaking goals. How did he do it? Griffith said it was that "defense-first" team mentality that comes with playing in the NHL that put him in the right place at the right time.
"Doing the little things right led to those goals," said Griffith about his highlight reel tallies.
"Things like going hard to net, and taking care of our own zone first. It's not junior anymore, and you can't take the time you do there and dangle, or make fancy plays. In the NHL everyone is good, you've got to make hard plays, protect the puck, and go to the net. Doing those things right has led to those goals."
To his credit, Griffith has been listening to his coaches, and focusing on improving defensively, which has kept him in the NHL for most of the season, despite a few demotions, and games as a healthy scratch.
"Being smaller, they keep saying to use my speed to my advantage, protect the puck, be tough along the wall, and make strong plays to get the puck out of your own zone," he said. "I'm just playing a simple game, which is what everyone does up here. You don't want to get scored on. You have to put yourself in the lane to block shots, and make sacrifices."
Not only has Griffith been soaking in lessons from his coaches, but he's also found confidence from his teammates, many of whom are NHL All-Stars, Stanley Cup champions, and Olympians.
"If you look at Patrice Bergeron, (Zdeno) Chara, Chris Kelly, (Milan) Lucic, guys like that, they all have won a Cup," said Griffith of learning from his teammates. "It's helpful to have guys like that tell you you're doing a good job, and giving you tips. It really builds your confidence. We have a great room and a bunch of great guys here in Boston that have really helped me along the way."
Now, Seth Griffith must continue to put his team first. He's reached the milestone of making the NHL, and scoring his first goal. Now, his focus is on continuous improvement, earning a permanent spot in Boston's lineup, and the ultimate goal of winning a Stanley Cup with the Bruins.
"Just keep playing well, working on the defensive things, and improving every day," said Griffith of his goals for this season.
"You have to keep working on your game every day, and that's what I'm doing."