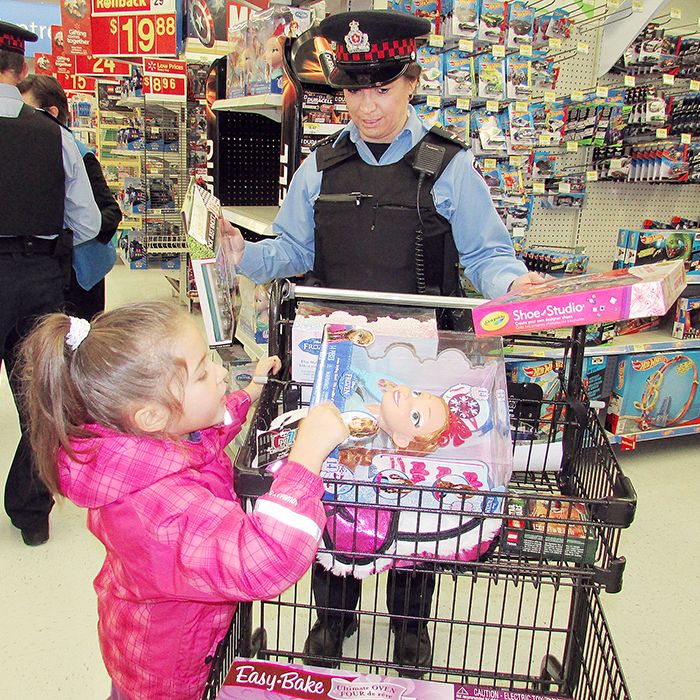 Police officers had some difficult decisions Saturday morning. Which Elsa? Which Barbie? Is this a good basketball?
Such questions needed answers at Wal-Mart, as about four-dozen officers and auxiliary officers from the Chatham-Kent OPP and Chatham-Kent police helped 32 kids do their Christmas shopping. It was part of Shop with a Cop day.
Early morning shoppers arrived to Wal-Mart in Chatham to see a cluster of police cruisers outside the north entrance, and dozens of uniformed officers inside, pushing shopping carts, offering advice, and reaching the items on the top shelves for their young charges.
OPP Sgt. Brian Knowler brought the idea with him from his time up at a detachment near Sault Ste. Marie. He was first exposed to the concept where officers take less fortunate kids shopping for the family for Christmas, using gift cards paid for through donations.
Knowler took the concept to Caledon and now Chatham.
He said when he brought the idea up in early November, officers jumped on board immediately. After speaking with Const. Renee Cowell, community relations officer with the Chatham-Kent police, a cross-service partnership quickly developed.
On Saturday, from auxiliary constables to inspectors, the officers showed up in force, armed with smiles galore.
"For some, it was the first Saturday of their vacation," Knowler said of the dedication of the officers who volunteered on their time off.
Ann Peck, who manages the Chatham Wal-Mart, thought the event was "fabulous.
"I think the police officers seem to be about as thrilled about this as the kids," she said. "The kids are just adorable."
Peck said when the police approached her with the Shop with a Cop idea, Wal-Mart jumped to take part.
"We were just thrilled to help do this," she said. "I hope this becomes an annual event."
Knowler said the kids were sent off with some direction from the police.
"Take care of your family, take care of your brothers and sisters, but take care of yourself," he said. "You worked hard shopping. You deserve an award."
The children entered in varying stages of preparation. Some just cruised the aisles, while others had plans.
"Some of them had a specific list. They knew what they wanted to get Mom or Dad," Peck said.
Knowler agreed.
"Some of those kids can spend $100 pretty quickly. I think one kid was done in about eight minutes," he said. "When they found out they had $100 to spend, most made a beeline to the toy and electronics departments."
OPP Const. Janine Belanger said helping with the shopping was just one step for the police on the day.
"The fun part is going to be wrapping all this stuff," she said. That was to happen after the kids and cops went to Lawson Hall for breakfast.
Knowler thanked the various businesses and individuals who stepped up to donated to pay for the gift cards. He also commended Wal-Mart for adding staff and setting up specific Shop with a Cop checkouts.