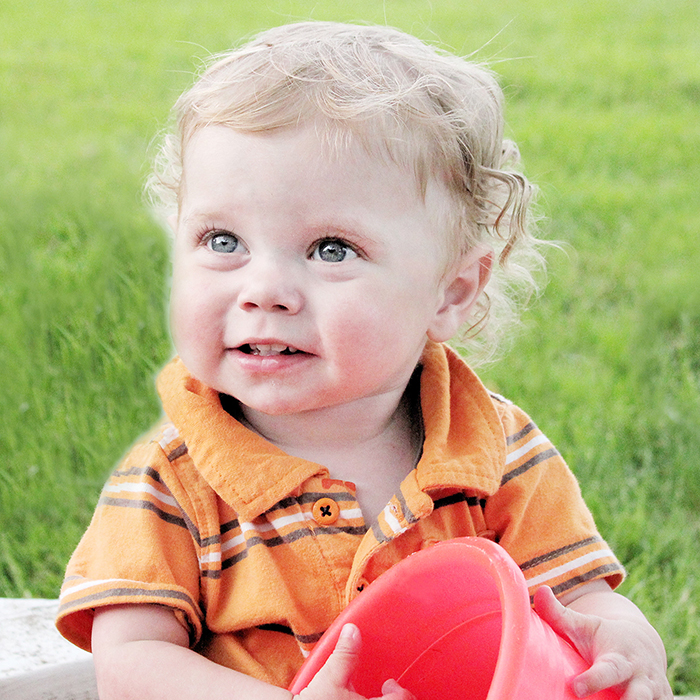 Little Emmett Walker died at a mere 17 months of age, but his memory is living on.
Parents Paul and Melissa Walker, who live near Merlin, recently held a benefit event in their infant son's memory, raising nearly $13,000 and enjoying a heck of a party in the process.
Emmett came into this world in 2012 facing an uphill fight, as he was born with aortic valve stenosis, a heart defect. It was something doctors were aware of. In fact, they'd started fighting on Emmett's behalf while he was still in his mother's womb.
"They took a huge needle. They stuck it through my stomach, through him, through his heart to dilate it (the valve) to see if they could buy more time for him to stay in me," Melissa said. "It helped a bit, but I still had to deliver him a bit early."
Chatham Mazda from Chatham Voice on Vimeo.
All that took place in Toronto.
And when Emmett came into this world, he was still in tough shape, Melissa said. He spent the first month of his life in hospital at Sick Kids in Toronto, with parents close by at Ronald McDonald House (RMH).
Finally, he seemed well enough to go home.
"We came home for six days, then he went into a valve failure," his mom explained. "He was taken to hospital in Chatham and then flown to Toronto."
At that time, he has another surgery on his heart, but medical personnel couldn't take him off a ventilator, so doctors opened him up again and installed a mechanical valve, Melissa said.
"After that, he got off the ventilator. He did really well," she said. "We were home for quite a while."
There were regular trips to London hospital for Emmett, where he received cardiac care, and where Melissa and Paul stayed at RMH. But then Emmett lost his battle last July.
"He just got sick and couldn't fight it," Melissa said, explaining he caught a virus and was just too weak to beat it.
This past spring, Melissa said she and Paul started thinking about doing something in Emmett's honour.
"We decided to do a fundraiser and raise money for the places we stayed at and helped make sure we had him for 17 months," she said. "He is still my son and I wanted people to remember him."
Melissa said she and Paul reached out through family and friends, and a plan soon came together. One of Paul's uncles is Jeff Mifflin of the O'Hara Brothers, Chatham-Kent's rock 'n' roll charity kings. They were on board.
Jeff is related to the name behind the Stephanie McIlroy Band, and soon there were two acts booked for the night.
Enter Walkin' 47. Dr. Jason Denys, who plays in the band, is the Walker family physician.
So on Nov. 29, the bands rocked Deer Run Golf Course in front of 300 people.
"I probably knew 85% of the people there," Melissa said. "The people were so generous."
A silent auction and raffles throughout the evening, combined with ticket sales, helped raise nearly $13,000, after expenses.
"I couldn't believe we made that much," Melissa said.
Much of the funds raised will wind up at RMH in London, with some also headed for Toronto, she said. But Melissa wanted to donate to London's cardiac care unit in some way, perhaps giving kids who stay there some tablets to play with.
She said she hadn't heard about RMHs until they needed to use one, and doesn't know what she and her husband would have done otherwise.
"In London, they charge $10 a day to stay there. In Toronto, it's $15, as opposed to a hotel," she said. "I couldn't have imagined what we would have done without it."
"We spent a lot of time at the Ronald McDonald House at Sick Kids in Toronto, as well as the one in London," Melissa added. "It was a rollercoaster. With two other kids (Riley, 9, and Ethan, 5) too. They would come stay with us at Ronald McDonald House, but stay with their grandparents through the week so they could go to school."
November's party wasn't the first fundraiser in Emmett's name. In September of 2013, family had organized a golf tournament that wound up raising more than $6,000, which was donated to the London RMH. Melissa said that earned Emmett a place on the House's wall in honour of the donation.
Melissa said through the South Raleigh fire hall, where Paul is a volunteer firefighter, they prepared a meal for RMH London in September as well, trying to give a little back.
As for next year, Melissa said it's too early to tell if there will be another party night in Emmett's name. But she thinks it could work every few years for sure.
"As long as we clear our expenses, it's still a great night out," she said. "Anything that helps them (RMH) out is worth it."