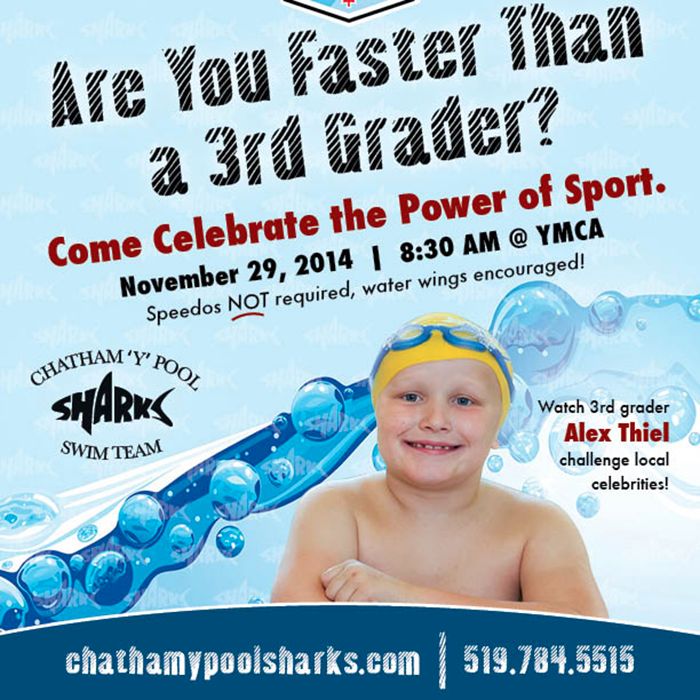 Kudos to the Chatham Pool Sharks for coming up with their "Are You Faster Than a Third Grader" promotion this coming Saturday.
It's part of the celebration of RBC Sports Day in Canada. The Sharks are challenging members of the media to race one of their kids, Alex Thiel.
The Pool Sharks asked if I wanted to be part of the challenge. I laughed. Alex would leave me in his wake, even if I didn't have my bum hip.
Chatham Mazda from Chatham Voice on Vimeo.
I've got a nephew who is a Pool Shark. I've seen how smoothly he moves in the water.
Best of luck to the folks who take up the challenge, but my money is on the third grader.
Neither rain, nor sleet…
Last week, Fatima and I had the tall task of filling in for John, our normal driver who drops our paper off to all our delivery folks. We got the job done, but took longer than John would have.
I must thank all the delivery folks who were so patient with us; ditto for readers who no doubt received the paper a little later than normal.
The inclement weather played havoc with delivery last week. What's with snow in November like that? Fatima claims that on at least three occasions I either created a new driveway where there wasn't one, or was about to make such an attempt. I recall two of them but am in denial on the third.
Then again, I missed what she said was a turn onto Edgar Street from Lacroix, only to discover that Edgar doesn't quite reach Lacroix. Fatima said I could have driven up the steps if I really wanted to.
Hmmm.
It wouldn't have been a typical Bruce-like delivery day without me driving by addresses where I was supposed to stop. Or pulling into the neighbour's driveway instead of the correct one, leaving Fatima to haul the papers back to the right spot.
For some strange reason, she was exhausted by the end of the day.
Hmmm.
Snow's disguise
As the rain poured forth on the weekend, wiping away our first snow of the year, it's amazing how dirty fall looks in comparison. On our street, leaves piled at the edge of the roadway, or scattered on lawns, and mulched into pulp on the road itself is essentially all that remains of the once-beautiful fall.
What we need this week is some breezy days to dry out the remaining leaves on our lawn so we can get them bagged up. A dry weekend would be nice as well.
And a visit by the street sweeper would be a bonus too.
Then it's onto Christmas decorating. Because once they're up, the snow can fall.
Comments
comments
« Delivering anti-bullying message U12 Thunder fall in Dorchester »