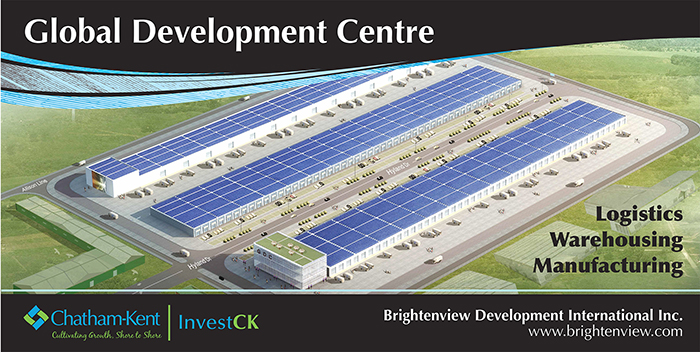 Officials with Brightenview Development International spent three days in Chatham-Kent this week laying plans for the firm's proposed $45-million, 680,000-square-foot facility in Blenheim.
Lorne Nystrom, Brightenview's vice-president of public affairs and government relations, said officials were "doing our homework" regarding use of local firms and professionals for the project, which is slated for completion by the spring of 2016.
"We came to engage local people as much as possible," he said. "We need a builder and we've being meeting with architects, lawyers, IT people and communications groups," he said. "We've very pleased with what we've found. We want to deal locally wherever possible."
The huge building – which is being called the Global Development Centre – is hoped to eventually be home to as many as 80-100 different offshore businesses.
The concept is for Brightenview to build the structure and supply support for offshore small- and medium-sized businesses to the point that all they need to do is bring their manufacturing knowledge with them and they'll be able to begin operations.
The centre will have 400,000 sq. ft. of manufacturing space, 250,000 sq. ft. of shared warehousing, and 30,000 sq. ft. of office space that Brightenview will use to provide support to companies to deal with various levels of government, as well as providing numerous other areas of operational assistance.
Municipal officials estimated the project could provide as many as 500 jobs.
Two weeks ago, Chatham-Kent council approved sale of 34 acres on Hyland Drive in the Blenheim Industrial Park to Brightenview for $804,000.