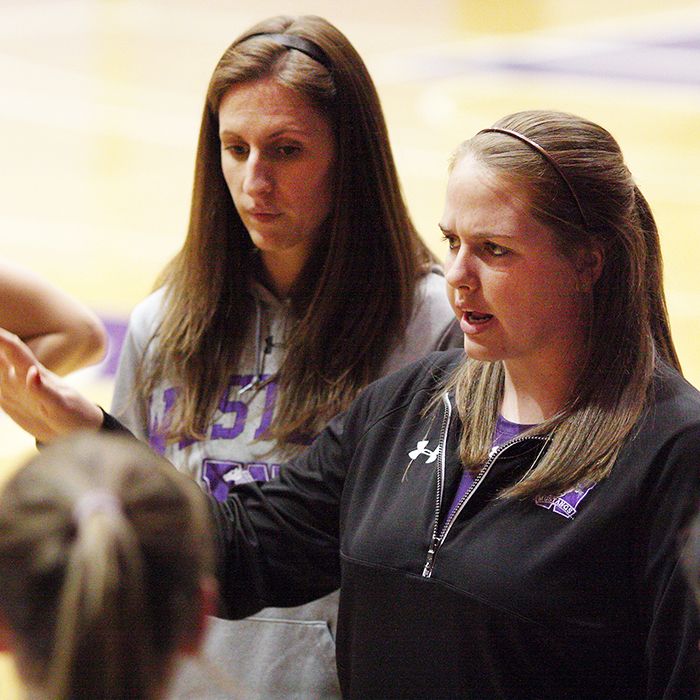 Melissa Bartlett has loved volleyball since the day she could hold a ball.
Now it's her job to inspire that passion for the game into her athletes, and drive the Western University women's varsity volleyball team to wins, as the Chatham native enters her second season as the Mustangs' head coach.
"My first season was a whirlwind," said Bartlett of the 2013-2014 OUA season. "I gained so much valuable experience, both as a coach as well as manager of a major athletics program. I have been extremely fortunate to have this opportunity as a young coach at one of the best academic universities in Canada, and one of the schools with such a respected history in athletics as well."
Used to being a top recruit herself, playing for Canada's national junior volleyball team in the early 2000s, followed by an award-filled NCAA career with Eastern University, and later at Hillsdale College, Bartlett is ready to put her own spin on Western's team this season, as the Mustangs welcome Bartlett's first recruiting class.
"This season, we are going to be focused on being as prepared as possible for the start of our OUA regular schedule," said Bartlett, of the Mustangs OUA opener, on Oct. 17 at McMaster University.
"With a large recruiting class of very talented young athletes, we have a lot of preseason competition opportunities lined up as well so that by the time OUA begins, we will have formed our identity as a team."
Preparing to teach her athletes, Bartlett, who played professionally in Spain following her NCAA career, knows that as a second-year coach, she is still learning as well.
"One of the lessons I learned is that adaptability is necessary to be successful at that level," said Bartlett of her learning curve in the first year of her OUA coaching career. "Our volleyball season is incredibly long, and with academic commitments as well as injuries that occur throughout the season, your lineup can constantly be in a state of flux, as was the case for our team last year."
Luckily, just as Bartlett did during her high school years at Chatham-Kent Secondary School, she has her biggest fan, and her own coach, her father Randy Bartlett, there to guide her through these lessons.
"Last year, my dad was always a 'birds eye' vantage point for our team – during matches and during the occasional practice he would be there to give me feedback and things to think about," said Bartlett.
This season, "Dad" won't simply be in the stands, he'll be on the bench beside Melissa, as her father Randy is officially joining Western's coaching staff as an assistant to his daughter.
"I am thrilled that this upcoming season he will be taking on an official assistant coaching role with our program," said the younger Bartlett. "He will be involved in match preparation, focusing on scouting opponents using game film analysis and doing the same role real time during all of our matches from the bench."
For Randy, getting to coach with Melissa is an opportunity he couldn't pass up.
"It is amazing to have the opportunity to work with Melissa this year at Western," said Randy Bartlett, who captained Western's men's volleyball team to an OUA title in 1979. "I think any parent would feel fortunate to be part of something meaningful in their daughter's life."
And after years of coaching his daughter, Randy Bartlett said Melissa herself is a talented coach, and he's glad to be working as a part of her staff.
"Melissa is a very knowledgeable and dedicated young coach," said the elder Bartlett.
"I consider myself very fortunate to be working with her and the rest of her coaching staff this year. The fact that she is working in a sport we both love is a bonus."
With her staff in place, and roster shaping up, Melissa Bartlett is excited for another season, coaching the sport she loves.
"It is a job that I love doing each and every day," said Bartlett. "I am very excited about the overwhelming support we have received from long time Mustangs fans as well as many volleyball alumni and I am looking forward to many years to come with the Western Volleyball program."