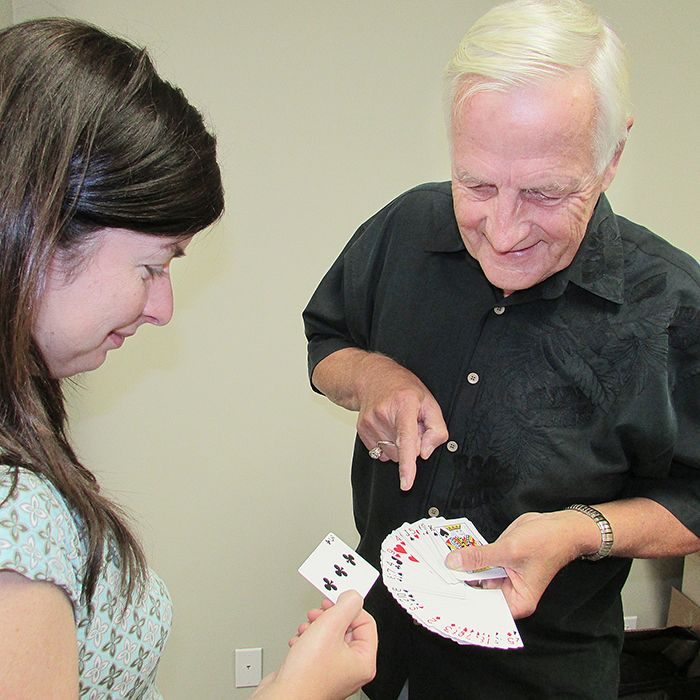 Marien Hopman's mind is sharper than mine by a long shot. And it's all magic.
I'm not talking smoke and mirrors, but nearly six decades of learning and performing sleight-of-hand magic tricks that keep his mind and dexterity finely tuned.
He showed me the magic box trick that underscores his great memory. I was to pick a number between XX and 99. I chose 55.
Marien, 67, looked at the 4×4 grid on the white sheet of paper in front of him and started placing numbers in the squares, seemingly at random. When he finished, he told me he had to do that in under a minute – those were the trick's parameters.
I had no idea where this was leading, until he added up the four numbers in the top row – 55. The second, third and fourth rows added up to my number as well. Ditto for the columns. And the diagonals. And the four outside corners. Add up a square of four numbers anywhere within the box and you got 55.
Marien filled that out in well under 60 seconds. He had more than 70 numbers that I could have chosen and somehow could put such a pattern down in such a short time period.
Years of mental training and determination continue to pay off for Marien. And to think it began 57 years ago.
"It started when I was 10. All kids like to do tricks and puzzles and try to fool people," he said.
Marien would borrow books on magic tricks from the Bookmobile, he said, and perform tricks for other kids. Some of them foiled his efforts, however.
"I hated kids who would take out books on magic. They'd figure everything out," he laughed.
From there, he started doing the magic tricks he found on the back of comic books. Then one day, he saw an ad in Popular Mechanics that offered up 500 magic tricks for a mere $2.
"I sent my money in and seven days later I got a catalogue of 500 tricks I could buy. A catalogue!" he said.
Marien wound up purchasing a few and said he soon had a closet full of small pocket tricks that were largely disappointing.
But in 1962, at the age of 15, Marien would discover a store, and a man, who would change his life. On the way to the Detroit Zoo, the Hopman family found the Fox Fun and Magic store.
"It was like walking into heaven. They had everything from the $2 trick to the $2,000 trick," Marien said.
The store's owner, Roy Kissell was showing off the beginner tricks to anyone who would pay attention. Marien wound up purchasing three tricks on the spot.
"I sat on a bench at the zoo playing with my newfound miracles," he said.
He didn't see the elephants, or monkeys or most other attractions that day, instead focusing on the tricks, one of which he didn't like.
"On the way home, we went to take it back, and the store owner said, 'You can't buy the magic. You have to practise. This is a great trick,'" Marien said.
He said Kissell sent him home to learn the trick – diminishing cards – and to come back and perform it for him in the future. If Marien couldn't do it, Kissell would refuse to sell him anything else.
"I went back two months later and did it for him," Marien said. "He became my teacher and mentor for the next 20 years."
Now, Marien and his twin brother, John perform maybe a couple of times a month. Marien does his magic, while John is a ventriloquist and music impressionist.
"We don't charge for the show, but you have to pay us to leave," Marien joked. "I do comedy/magic. If it's not funny, it's magic."
Marien's skills were showcased when he did a few card tricks for me. I'm watching one place and the "magic" has either already happened or was occurring somewhere else.
"Most people want to be fooled and if you want not to be fooled, watch the magician's right hand all the time," he said. "You're going to miss the show; you're going to miss the magic; but you will see something."
Marien likes to watch other magicians perform and loves to try to figure out the tricks, big or small. He said there are some he's never been able to unravel. A few magicians have tricks that no one can figure out.
"I watch a magician for how he does it. It's like a guitarist wanting to listen to a jazz guitarist," he said. "I could watch some tricks over and over. I love it."
Marien spent 45 years in sales and marketing, semi-retiring from SunLife Financial in 2012. He said there are some strong overlaps between his profession and passion.
"In magic, you have a prop; in sales you have a product or service. In magic, you have a patter; in sales you have an organized language," he explained.
These days, aside from the couple of shows he does a month with his brother, Marien also services a small group list of clients from his SunLife days, works with his wife to give back to the community through various church groups, and sells a few magic tricks when he and his wife attend about half a dozen markets a year.
He said she sells crocheted hats, with all her profits going to missionary programs, while his sales cover their travel costs to the various sales shows.
He still loves magic. Although he may look significantly different than he did at the age of 10, get Marien talking about magic, or have him perform a few tricks, and his eyes light up like a kids'.