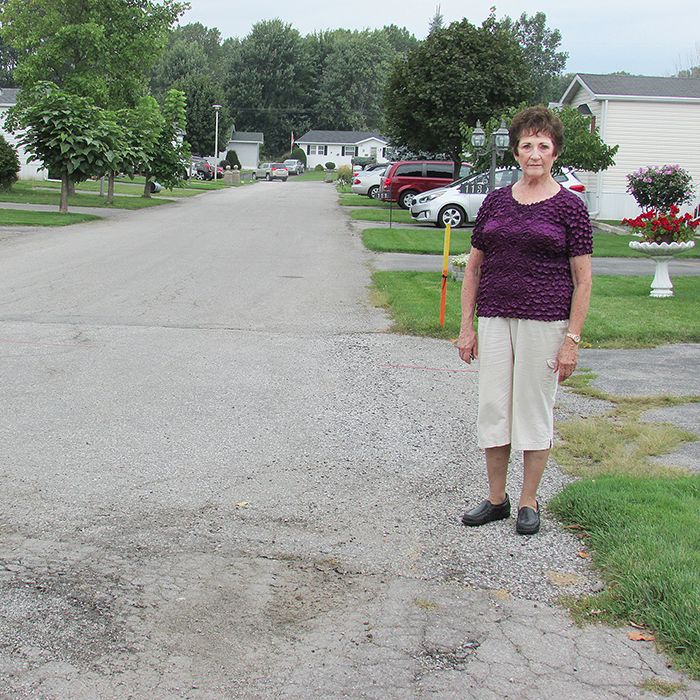 The Ontario Landlord and Tenant Board has scheduled a Sept. 25 hearing into complaints by St. Clair Estates residents that roads in the privately owned park are unsafe.
Elaine Meloche and her husband Wally are spearheading the effort after being told by owners of the 350 modular home development that the roads won't be replaced.
Meloche said the harsh winter was responsible for the road deterioration, but residents still need some place to walk.
"It's not our responsibility. The owner needs to spend the money and have the roads brought up to an acceptable standard, " she said.
Meloche said since there are no sidewalks in St. Clair Estates, residents have to walk on the roads.
In June Meloche said she suffered a bad fall when she stepped into some loose gravel used to patch a pothole.  "I went down hard, split my arm badly and got some pretty good bruises."
"After I fell, I was told the roads would be replaced this fall, but apparently the estimates were too expensive so they've been out patching some spots," she said.
"There are literally hundreds of places to fix. "
Meloche said when she moved to St. Clair Estates, the thought it would be a good place to take her daughter, who uses a wheelchair, for walks.
"It's difficult to find any stretch of level pavement," she said. "It's a patchwork of potholes, crumbling pavement and bumps."
The problem is even worse in winter when the low spots freeze and become icy and treacherous.
She said the roads haven't been replaced in the decade she's lived there. Long-time residents have told her major work has only been done on the roads once in the last 20 years.
Meloche estimates 75% of the area's residents are seniors.
"When you're older and you fall, the complications are much more serious than when you're young," she said.
She's hoping for a good turnout at the meeting that will be held at 10 a.m. at the W.I.S.H. centre.
"I've got plenty of photos and documentation, but it would be nice to see a lot of residents there. We have had a lot of positive feedback when handing out notices about the meeting, but there's strength in numbers."
Those attending the hearing should arrive at 9:30 a.m. for registration.
A phone message to the Farmington Hills, Mich., office of the owners, Mark Freedman, Mike Foldberg and Mark Zartarian, has not been returned.