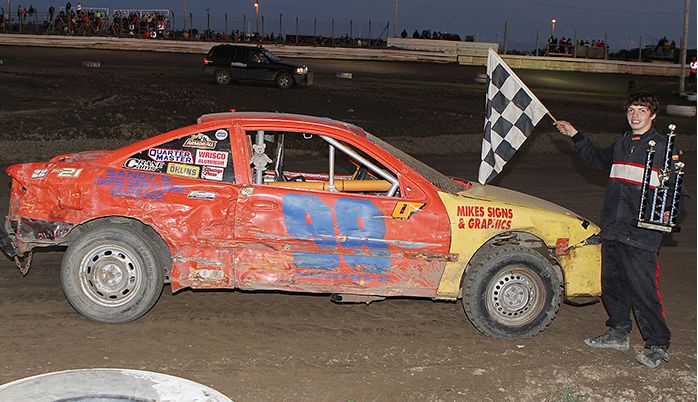 His car was overheating, he was mired back in traffic and the white flag was on the speedway.
The last place Jeff Schives thought he would wind up was in Victory Lane.
The 19-year-old Blenheim driver pulled off a stunning win in Saturday's Autotech Bombers season championship race, with the help of a last-lap crash between the leaders.
Chatham's Chris Ellerbeck and Blenheim's Shawn Hope traded paint on the last lap before finally crashing just a few yards from the start finish line.
Schives, who had just moved into third place, drove past the leaders but was met with a yellow caution flag instead of the checkered.
"I thought Hopey was going to go by him on the outside because he's been running strong up there all year," Schives said, describing the frantic final lap.
"Then I saw them both spin out and I thought if I got passed them both that would be it … but it wasn't."
Schives, however, was now the leader for the green-white-checkered finish and despite steam pouring from under his hood, he held off Blenheim's Austin Pickering and Ridgetown's Nick Glassford for the final two-lap battle to win his second straight Bomber championship race.
"I was going to be lucky to finish third," Schives said of his improbably victory.
"I didn't think I had any chance, my temp gauge was red line as soon as I came out of the chute, and it was losing power."
He said he could feel his car losing speed coming out of the final corner, "but I never let off, I figured it was my best shot … and then it blew up," he said, as he couldn't have gone another lap had another caution come out.
Ellerbeck, who was penalized for the crash with Hope, restarted at the back and rebounded to finish eighth. Hope, who would have been the leader at the restart, was able to continue because of front-end damage.
Schives also clinched his first Bombers' points championship.
Trevor Jones was the second Blenheim driver to go from third place in the late laps to Victory Lane.
The Tirecraft Mini-Mods points leader was running third when Cottam's Rob Quick, who led the first 16 laps, and second-place John Pinsonneault of Chatham crashed in turn two and both went to the pits with flat tires.
Jones held off Merlin's Jody Mason and Kingsville's Dylan Wolters, 14, for the final four laps to post his fourth feature win and pad his lead to 83 points over Quick with two race nights remaining in the season.
"It's my lucky day, I thought I was going to finish third, I didn't have the best set up tonight," the 16-year-old Jones said.
Chatham's Eren Vanderiviere won his sixth feature in the Tirecraft Sport Stocks, passing 14-year-old Jake Hooker who had led the first 10 laps.
Essex's Doris Lajeunesse and Merlin's Steve Shaw also passed the Chatham rookie in the later laps.
"Give him a couple of years and we're going to be chasing him," Vanderiviere said of Hooker's impressive run.
Ridgetown's Dale Glassford picked up his sixth Westside Performance Plus UMP Late Models feature win of the season and will take a one-point lead over Chatham's Jim Jones into this Saturday's championship night.
Glassford passed Chatham's Brad Authier on a restart and led the final 11 laps while Jones finished third.
Chatham's Louis Clements won his first Schinkels Gourmet Meats UMP Modified feature in a race called after nine of 25 scheduled laps because on unsafe track conditions.
Merlin's Brad McLeod rolled his car after hitting a rut in turn two while running third, prompting officials to call the race at that point.
Leamington's Joel Dick finished seventh but it was enough to clinch the division points title.
Dick holds a 109-point lead over Belle River's Mario Toniolo with one week left in the regular season. The most a Modified driver can accumulate in one night is 105 points.
Dick will also be defending his Modifieds season championship race victory on Saturday.
The Mini-Mods and Sport Stocks will run their championship races on Sept. 20.