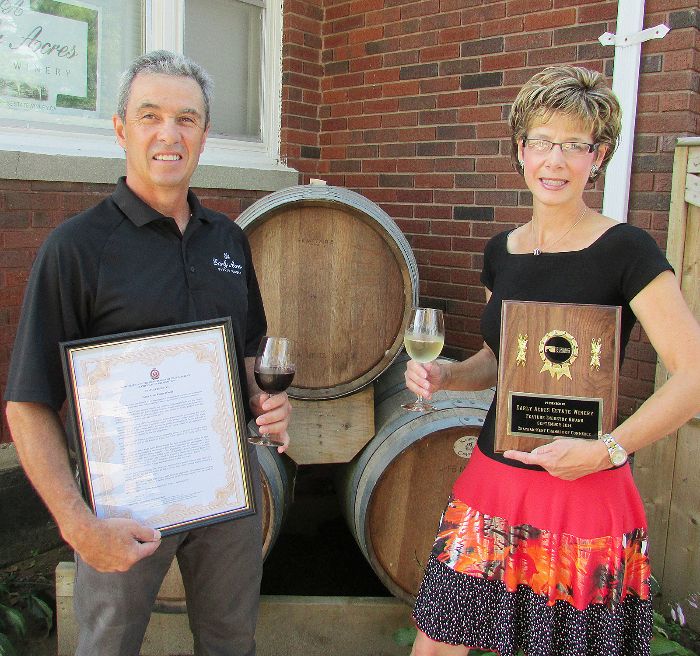 It's a family affair at Early Acres Estate Winery, put together by a family blessed with great patience.
The winery opened in 2012 on Pioneer Line just east of Prince Albert Road, and was named feature business of the month for September by the Chatham-Kent Chamber of Commerce.
Owners Mike and Susan Korpan credit their family for helping make the winery the success it is today. Most of the wines they produce, and there is a wide range to suit most any palate, have received the VQA designation – Vintner's Quality Alliance – which guarantees high quality of the wine and that the products used in the wine are of Canadian origin.
In the case of Early Acres, the grapes come from their own fields.
Chatham Mazda from Chatham Voice on Vimeo.
At a celebratory gathering Sept. 4, Tony Hill, president of the chamber, thanked the Korpans for creating the winery and contributing to local employment and the economy.
Mayor Randy Hope said it was great to see a family business, using Canadian product, earn such accolades.
"A winery takes time and patience," he said. "But the outcome is certainly worth it. You've taken something from the roots of the ground and made if flourish."
Mike Korpan agreed that there is no room for knee-jerk reactions in the wine business.
"Patience … you have no idea," he said.
It's been 13 years since the family planted its first grape vines.
"We are a real family business. Our kids are out with us every day. They helped plant every plant out there by hand," Mike said.
The winery is actually the former home of Mike's father, Joe, who was on hand for the Sept. 4 celebration.
"Our family, they stand behind us," Mike said.
Leon Leclair, longtime family friend and a North Kent councillor, said the Korpans are an example of the future of agriculture in Chatham-Kent.
"(The future) is with people like Mike and Susan, adding value and diversifying," he said. "They're doing something outside the box."
Mike said the business is an experience. He enjoys meeting new people, treating them to samples to expose visitors to the various wines available from Early Acres.
Susan Korpan said their decision to start a vineyard and eventually the winery stemmed from their passion for wine.
"We used to travel to Niagara every year," she said. "We wondered if we could do this. One year, we put them (grape vines) in the ground. People drove by thinking we were growing trees."
It turns out, the soil is excellent for growing grapes, and their location is a bonus and a hazard.
"We're further inland," Susan said, as most vineyards in Ontario are located near the shores of Lake Ontario or Lake Erie. "Our vines start to grow leaves and buds earlier, but a frost is always a worry."
She said there are no plans in the immediate future for expansion, just improving the existing operation for the moment.
Mike said the harsh winter has been devastating on vineyards around Ontario. He anticipates about a 10% yield from their seven acres of grapes this year.
Susan said many of other vineyards in southwestern Ontario won't be taking any harvest this year.
The tough year comes on the heels of a full crop in 2013, however.
Unsure of what this winter will bring, the Korpans remain undaunted. They've got family, and patience, to help them through it.