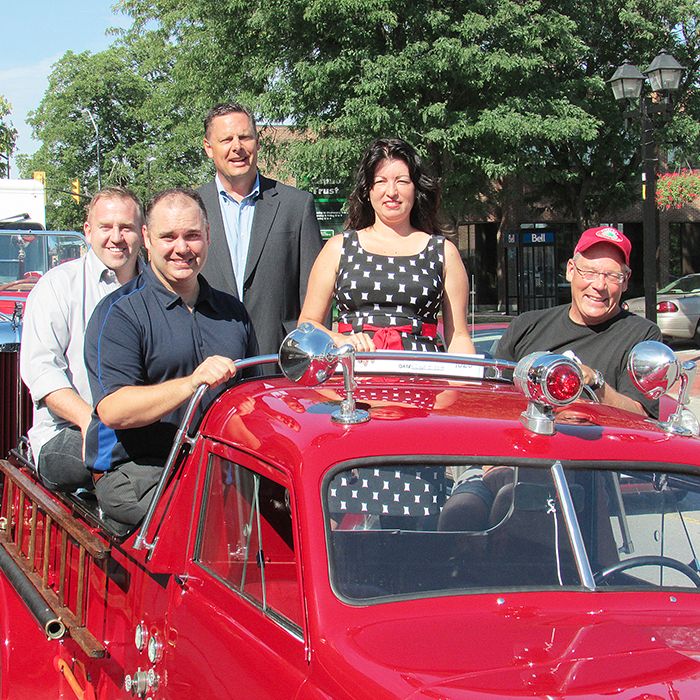 This year's Chatham-Kent Firefest is shaping up to be the largest and most varied one yet, thanks to a broad base of volunteers, sponsors and community support.
"This is the perfect example of how things should work in the community," said co-chair Brent DeNure . "We have a great committee, partnership with local businesses, sponsorships and support from the community."
Farming Stories: Chris Knight | Clear Creek Farms from Foster Visuals on Vimeo.
The event has grown from 42 fire and emergency vehicles its first year to 65 last year and an estimated 75-80 this year, but the biggest addition will be FireFest Combat Challenge.
Last year was already Canada's biggest such event.
Co-chair Keith Chinnery credited committee member Pat Weaver for his work in bringing the challenge to FireFest.  "This is a huge coup for us. The challenge will bring in teams from across North America to compete in firefighting events."
Weaver said the Chatham competition is the last one before the North American championship in Phoenix.
"This will be a tremendous event to watch," he said . "There will be a five-storey tower erected in the Downtown Chatham Centre parking lot."
Contestants complete five tasks, (dragging hoses, shooting water, climbing the tower, chopping and rescuing a 175 lb. life-size dummy in both team and individual competitions Saturday and Sunday.
To compliment that event, sponsored by TekSavvy and Union Gas , there will be a Kids' Combat Challenge sponsored by WINMAR Property Restoration Specialists.  JMHI insurance will have a kids' fire hat giveaway.
Weaver and Chinnery praised the DCC for allowing use of its parking lot for the challenge.
"We couldn't have done this without the support of Carson and Dan Warrener," Weaver said.
Carson Warrener said he was happy to be able to offer part of the mall parking lot for the challenge and the remainder of the lot for event parking.
"Our doors are open to FireFest," he said. "We have parking in the parking garage, we're air-conditioned and we have washrooms on the second floor. We're excited about the event."
Chinnery said the use and co-operation of the downtown core is unique to these types of festivals.
"Most of the time the events are held in a park, away from the core area of the community they're in," he said. "Having it right downtown allows us to show off our community."
FireFest officially begins at 8 p.m. Sept. 19 with Firehouse Chat at the Capitol Theatre. The evening, sponsored by the St. Clair College Alumni Association, features actor Randolph Mantooth from the television show "Emergency," retired NHL goalie and current fire fighter Tim Cheveldae and Brendan 'Doogie' Milewski, formerly of the Detroit Fire Department and now a fire service advocate. Tickets are $20.
Earlier in the day people will have an opportunity to "Drive A Chevy with Chevy" at Huelveman's Chevrolet Buick GMC where Cheveldae will appear from noon to 2 p.m. Those attending will have a chance to win tickets to the Firehouse Chat.
As a fundraiser, a one-of-a-kind Tim Cheveldae mask will be offered in a ticketed draw Friday through Sunday during FireFest Combat Challenge in the Downtown Chatham Centre parking lot.  Tickets will be sold three for $5 and are also available at Affinity Distinctive Jewellery.
Antique fire trucks and emergency response vehicles will be on display on King Street Saturday from 10a.m. to 4p.m.
King Street will be closed from Second Street to Fifth Street to accommodate the vehicles as well as rides in an Entegrus bucket truck, fire safety demonstrations and displays, a collection of antique fire truck toys, the CKFES Smoke House trailer, Block Parent displays, the OPP Safety Trailer and tours of the St. Clair College Capitol Theatre.
All events and activities on Saturday are free. The day concludes with a parade of vehicles along Grand Avenue from Victoria Avenue to the Thames Lea Plaza.
Other sponsors include the Chatham-Kent Community Partnership Fund, Retro Suites, the Chatham-Kent Association of Realtors, Historic Chatham Downtown BIA, the Junctura Group, Blackburn Radio, Dawson Signs and HUB Creative Group.