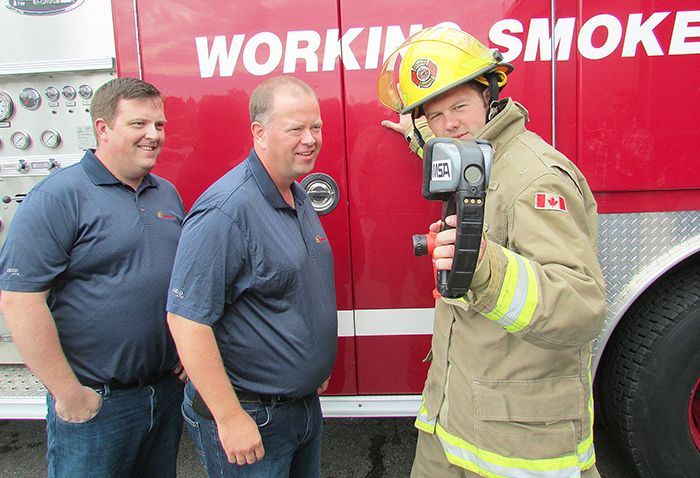 Chatham-Kent Firefighter James Labombard shows Enbridge Green Energy staffers, from left, John Bridges, site supervisor for the Talbot Wind Farm, and Ian MacRobbie, general manager, how a thermal imaging camera can detect heat sources. Enbridge donated $13,500 to pay for two of the cameras for the fire department.
The Chatham-Kent Fire Department has two more "essential" firefighting and lifesaving pieces of equipment, thanks to a renewable energy company.
Enbridge Green Energy donated $13,500 towards the purchase of two thermal imaging cameras.
Bob Davidson, assistant fire chief, said the value of the cameras goes way beyond the price tag.
"These things will save lives. These things will save property loss," he said. "These cameras are essential. They allow us to see into the fire. We can find people who may be lost in the fire. We can also use them to help find people who are lost on the ice in the winter."
Farming Stories: Chris Knight | Clear Creek Farms from Foster Visuals on Vimeo.
Davidson said the fire department does not have enough cameras to outfit every station in the municipality. These two will be divvied up between a full-time station and a volunteer station. One camera will go to Station #2 in Chatham, while the other will wind up at one of the volunteer stations.
"It will depend on need and call volume," Davidson said. "It would be nice to have a camera at every station. We're nibbling away at that. Enbridge has been a tremendous corporate partner."
Ian MacRobbie, general manager for Enbridge Green Energy, said the funding comes from the company's Safe Communities Program, where the firm donates to assist first responders. The money goes towards equipment, training and education.
Last year, Enbridge helped fund a Bull Ex fire extinguisher training system that the fire department uses to help train people on the proper use of fire extinguishers.
MacRobbie said the company is allocating $33,000 over three years to assist first responders here in Chatham-Kent.
"We allocate money for a number of projects," he said. "We work with the local first responders to see what's needed."
Enbridge has two projects on the go in Chatham-Kent, a solar farm near Tilbury and the Talbot Wind Farm near Ridgetown, MacRobbie said.
The company has also donated $15,000 towards a splash pad in Ridgetown, Enbridge's Cynthia Lockrey said.