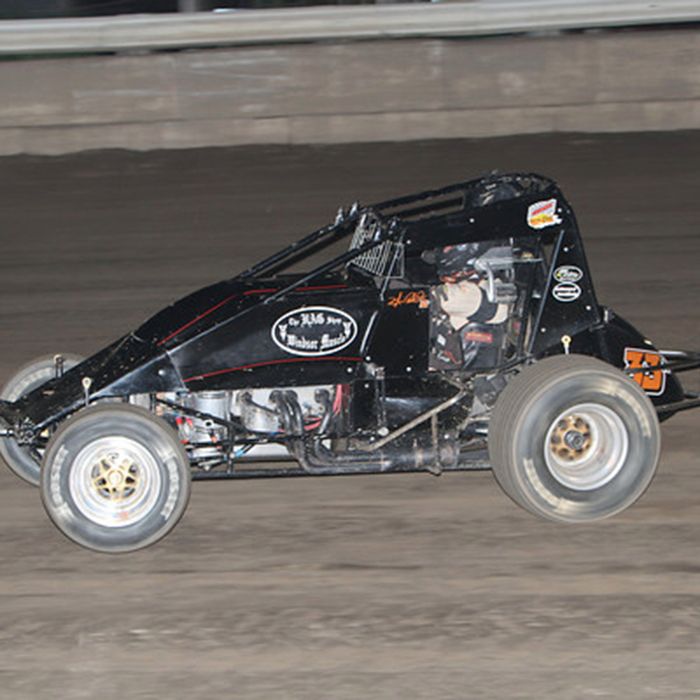 Kyle Patrick topped the Southern Ontario Sprints.
Now, he hopes to top the topless.
The Tilbury Tornado returns to South Buxton Raceway this Saturday night for the fourth time this season, and second time with the Ontario Topless Sprints.
Patrick picked up his second career South Buxton victory on Aug. 2 with the SOS.
He finished second to Joe Bares, of Traverse City, Mich., in the feature when the wingless sprints came to South Buxton for the first OTS visit June 14.
While Patrick has been a familiar visitor with several sprint series over the past decade, another local sprint driver will be making his South Buxton debut.
Tyler Hendricks, of Pain Court, will be taking the wing off his Crate Sprint to run with the OTS on Saturday.
Hendricks, grandson of South Buxton Hall of Fame driver Don Hendricks, had been running asphalt modifieds and late models at Delaware Speedway before making the switch to dirt this year in the new Crate Sprint Series at Ohsweken Speedway.
Hendricks will also be at South Buxton as the Ohsweken Crate Sprint Series has been added as a support class to the Canadian Fall Shootout on Friday, Sept. 26.
OTS president Ken Bayliss expects a larger car count than the nine that came to South Buxton on June 14. Several potential sprint drivers instead went to Brighton Speedway because of a schedule change with the SOS.
Bares is expected to return, along with other drivers from the Michigan Traditional Sprints.
John Watson, from St. Thomas, and Chris Durand, of Port Stanley, have been the two regular Ontario drivers in the OTS series this year, as Bayliss continues his quest to see wingless sprint racing become a popular touring series in the province.
Watson won the OTS feature at South Buxton on June 15, 2013,
South Buxton is the only Canadian track on the OTS schedule this season. The OTS has a second date at Crystal Motor Speedway in Michigan on Sept 13 to conclude the 2014 schedule.

Pit Stops
All five of South Buxton's regular classes will be in action on Saturday, giving fans six divisions of racing.  The SBR divisions will run heats and features only. Features from last Saturday's early postponement will not be made up.
South Buxton drivers have the top to take their roofs off an run 'topless' this week.
Saturday's rainout after the heat races did little to affect the points standings, all of which are virtually two-man races. The Late Models and Modified championship night is Sept. 13 while the Sport Stocks, Mini-Mods and Bombers is Sept. 20.
Ridgetown's Dale Glassford holds the closest division lead as he sits 16 points ahead of Chatham's Jim Jones in the Westside Performance Plus UMP Late Models with four race nights left, including championship night, to run for points. Brad Authier is third, 70 points behind Glassford and 26 ahead of two-time reigning champion Gregg Haskell, as the two Chatham drivers need Glassford to sit out a feature race to have shot to get back into the points race.
Leamington's Joel Dick has the biggest division lead as he is 153 points ahead of Belle River's Mario Toniolo atop the Schinkels Gourmet Meats UMP Modifieds. Shrewsbury's Jim Dale Jr. is third, 179 points off the lead.
Trevor Jones padded his lead atop the Tirecraft Mini-Mods to 26 points over Cottam's Rob Quick with Blenheim's Brett Hope and Chatham's John Pinsonneault 77 and 82 points back in third and fourth, respectively.
Three-time defending series champion Eren Vanderiviere holds a 46-point lead over Steve Shaw as the Merlin drivers lead the Tirecraft Sport Stocks division. Essex's Doris Lajeunesse is third, 105 points behind Vanderiviere and one point ahead of Kingsville's Rob Young in fourth.
Blenheim's Jeff Schives is 117 points ahead of Chatham's Chris Ellerbeck in the Autotech Bombers, with Blenheim's Austin Pickering a distant 173 back in third.
Fans will be able to purchase beer and coolers and bring them to their grandstand seats on Saturday as the Tilbury Kinsmen will have a beer tent set up beside the concession stand.
Special Event prices are in effect – $20 for adults (ages 17-59); $15 for seniors (60-over) and teens (13-16); $10 for children (ages 6-12) and kids 5-under are free.
The grandstand opens at 4:30 p.m. and racing starts at 7 p.m.
Comments
comments