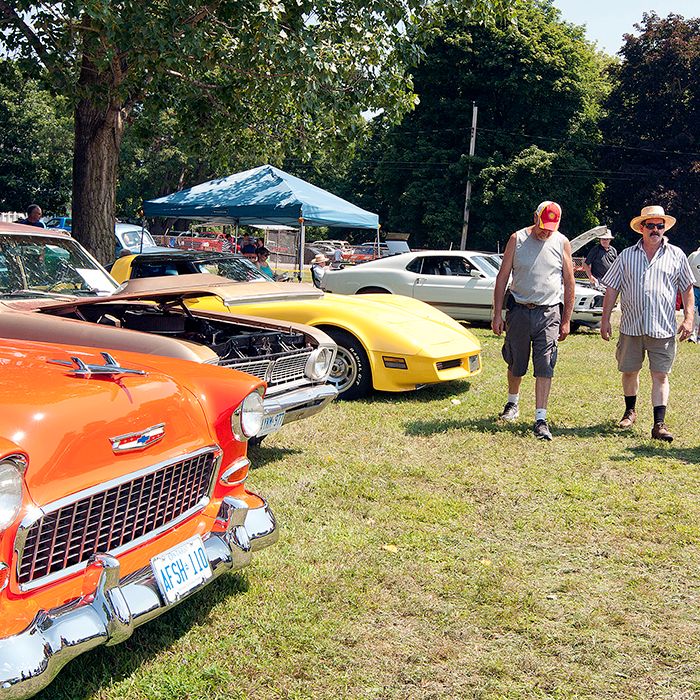 Three hundred and sixty-four other days a year, the quaint community of Bothwell can be described as fairly quiet and traffic-free – but not last Saturday.
In a wave of headlights, chrome and undeniable classic style, the annual Old Autos Car Show fundraiser rolled into town along with nearly 6,000 spectators who travelled to Victoria Park.
The event, a joint venture by Old Autos newspaper and the Bothwell & District Optimist Club, is in it's 23rd year. More than 1,114 cars were registered for this year.
Jodi Kish, production manager for Old Autos, said this is one of the most successful years she has seen to date.
"As far as spectators and participants, it's one of the best," said Kish.
With no more advertising done this year compared to last, Kish can attribute the high crowd numbers to one major deciding factor – good weather.
"A couple years ago, it rained all day and it was horrible. They lost money that year," she said.
Throughout the years, the car show's reputation for being one of the biggest and best has only grown in popularity since starting.
This year honoured 1971-1975 automobiles with free admission.
Visitors and car enthusiasts alike enjoyed a parade on Friday night, plus a field of vendors, flea market, draws and a whole lot of classic cars.
With more than 17,000 subscribers to the Old Autos paper, some of its readers plan their holiday around the event to make sure they don't miss their Bothwell visit, Kish said.
The event, which has been largely organized by the Optimist Club for the past four or five years, benefits a wide range of local clubs and charities, and raised approximately $40,000 before expenses this year.
"All the money goes back into the community, so it's not a profit thing," said Kish. "I would say there are probably 20 charities that benefit from it."
The Bothwell Baptist Church Youth Group, Bothwell Zone Historical Society, Knights of Columbus and local sporting groups are just a handful of organizations who receive monetary assistance from the car show.
"When there's a good year, everyone benefits," said Kish.
As each August approaches, Kish says the town transforms as event set-up begins.
"It is a big community booster. People tend to get a different attitude and you can feel the excitement; it's sort of like Christmas," said Kish.
"And car people are really great people. You just have to stop and ask them something about their car."