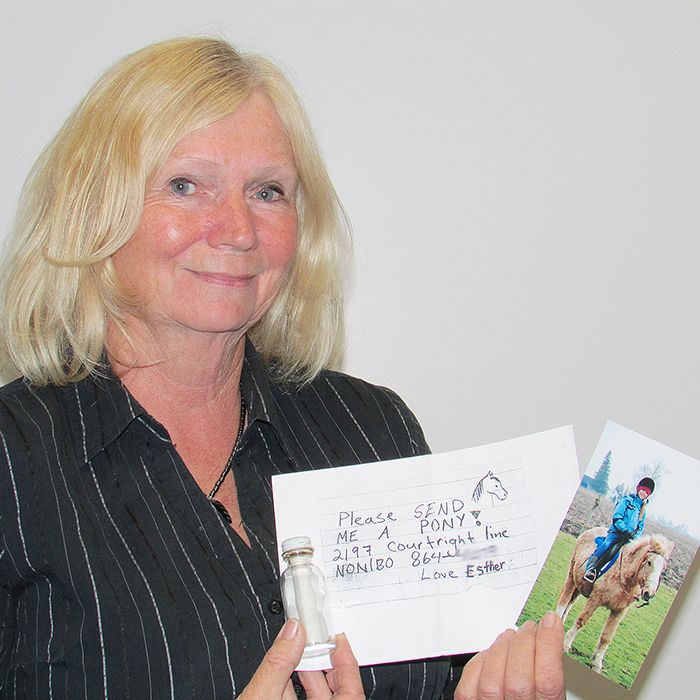 Fate connects little girl with 'the horse lady'
Sometimes, there is a story you hear that gives you goose bumps and makes you believe that a higher power really is at work in the universe. The story of the message in a bottle is one of those; and for a Brigden woman, it is very real.
The day a woman known as "the horse lady" in Wallaceburg found a message in a bottle in Running Creek from an eight-year-old Brigden girl asking for a pony was a life-changing one for both of them.
Dawne Mudford, a 4H Horse and Pony Club organizer and horse-lover, was kayaking with her 4H Canoe and Kayak members 10 years ago when she saw a red ball bobbing in the reeds of Running Creek. Thinking it was garbage, she paddled over to get it and saw a small clear bottle floating with a white piece of paper in it. The paper said, "Message inside – break bottle to open."
"It was like the red ball was a beacon and when I saw what was inside, my jaw dropped to the floor and I couldn't speak," Dawne said. "Everyone in Wallaceburg knows me as the horse lady, and for me to find it was pretty outstanding."
Esther Thomson was eight when she threw the bottle into Black Creek behind her house in Bridgen, and never expected that nine months later, she would get a call from possibly the only woman who could grant her wish for a pony.
"I was home-schooled and my mom had us write a book as a project. Mine was based on my life – a girl wanted a horse but her parents wouldn't let her have one and said it was too expensive," Esther, now 18, said. "I didn't like that it was fictional so I asked my sister to help me write the message and I don't think she really knew what it was for. Then I remember thinking, 'It's real to this point.'"
Dawne called the number on the note, and left a careful message for Esther, letting her know if she still wanted a pony, one was lined up for her.
"It took a few days before I made the call. The bottle could have been in the water for years," Mudford explained. "I didn't see it as a nicety, I felt it was a command from a higher power. If someone like me found it, I knew I had to do it."
Holding the original bottle and note, Dawne said, "This little bottle is one of the most special things in my life."
The Thomsons invited Dawne over for supper to meet Esther and tell her about her new pony, Sandy, a little Palomino rescue horse that was waiting for the girl whenever she was ready.
"It felt surreal. It's pretty impossible for that to happen but when I was little I believed it could," Esther said.
Dawne also arranged riding lessons and invited Thomson to join her 4H Horse and Pony Club.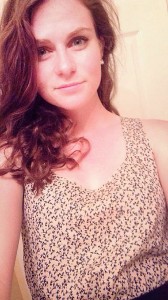 "Esther was at every meeting," Dawne said. "There was a special bond between her and horses. The horses just loved her. If you were going to make a movie and find a girl to cast in it, she was it – so very precious."
Getting to know Esther, Dawne was amazed at all the parallels between their lives. Both are each one of seven children, both loved to draw horses starting with the ears, and they both shared a passion for horses and riding.
"It was like we had known each other forever," Dawne said.
Esther believes the connection with Dawne was meant to be.
"From a young age, when my sister was getting riding lessons, I really loved horses and felt I was always meant to do something with horses," she said. "I've been really, really lucky for the opportunities Dawne has opened up for me. I can't look back and thank her enough for every opportunity and everything I have learned."
Sandy was with them for six years before the pony passed away and Dawne took the teen to get a new horse – a thoroughbred named Dexter, who they have had for four years.
"I took her to see him and told her this was our new horse. I shared the experience with her of training and caring for Dexter," she said.
Now 18 and a high school graduate, Esther is training off-track thoroughbred horses and giving riding lessons at a stable. She showed for the first time last year, which she said was an amazing chance to ride trained horses and try so many different steeds.
And it all began with a message in a bottle…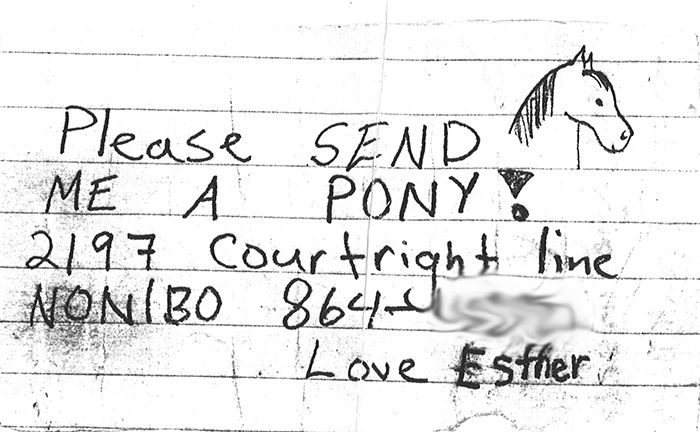 Comments
comments