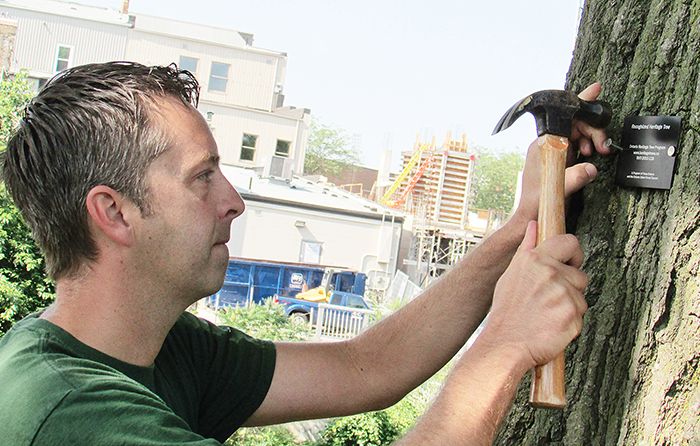 A venerable shumard oak tree greets visitors as they cross the walking bridge over McGregor's Creek entering Tecumseh Park. The 150-year-old tree offers shade during the heat of summer, but also a window into the past in Chatham-Kent.
It is the first tree in the municipality to receive a heritage designation, courtesy of the Greening Partnership, Scribendi and Chatham Sunrise Rotary Club.
Chatham Mazda from Chatham Voice on Vimeo.
Randall Van Wagner, environmental project co-ordinator with the partnership, which was formed by the municipality and the Lower Thames Valley Conservation Area, tacked a commemorative plaque to the massive oak July 2, as several staff members from Scribendi looked on with pride.
The editing firm donated $3,000 for the heritage tree program, while Sunrise Rotary added another $500.
The plan is to develop a heritage tree map of historically significant trees in the municipality, and use it to encourage conservation and even attract tourists.
Van Wagner said Elgin County has developed such a map.
"We're making people aware of these unique species of trees," he said. "And we aren't just highlighting Carolinian trees (species native to southwestern Ontario). We do this to create interest, bring education to people and for protection of species."
Van Wagner said there is a ginkgo tree planted near the Chatham Cultural Centre that was put there many years ago by a local businessman after the seeds were brought over from China – another tree that will be added to the heritage tree list.
Scribendi spokesperson Karen Ashford called the project "really cool," as it could draw tourists to the municipality to check out these trees, as well as encourage local families to track them, all while raising awareness.
"Educating could help stop clear-cutting and preserve our woodlots," she said.
Ashford said Scribendi is a proponent of helping the local environment.
"We've worked with the Lower Thames Valley Conservation Authority for the past five years to help preserve existing trees and promote tree growth," she said. "Chatham-Kent has the lowest tree growth in Ontario."
Just 3% of the municipality is comprised of forest coverage.
Ashford said Scribendi personnel would love to see that number rise, believing it would help attract people to the municipality.
"It would encourage healthy lifestyles and recruit people to Chatham-Kent. Healthy parks and healthy lifestyles in C-K attract highly educated workers."
Kelly Johnson, the community trees initiative co-ordinator with the Greening Partnership, added that for every heritage tree designated, the plan is to plant 10 trees of the same species as close to that tree as is feasible.
In the case of the oak in Tecumseh Park, two shumard oaks have been planted in the park.
That towering oak was planted in 1864 by a Dover Township man, Van Wagner said. He'd initially thought it dated back as far as the War of 1812, but said a resident brought in a photograph of his grandfather standing in front of that same tree, and explained his ancestor had been the one to put that tree in the park.