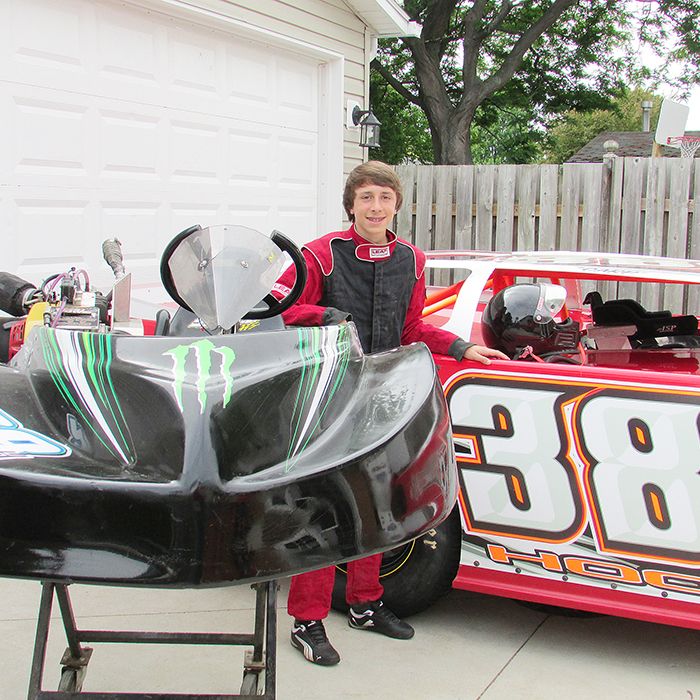 Jake Hooker, 13, is making the transition from go-kart to stock car as he is now racing at South Buxton Speedway, the same place his dad, Kirk, spent so many Saturday nights earning checkered flags.
Jake Hooker isn't just trying to walk in his dad's footprints; he's racing in his tire tracks too.
Jake, 13, son of longtime racer Kirk Hooker, is racing with the big boys – well, the adults, actually – at South Buxton Raceway.
Did we mention he's barely a teenager?
After years of racing go-karts, Jake stepped it up a notch and climbed into a stock car this season.
It's familiar territory for a Hooker, as his father, Kirk, was not only a mainstay on the track at South Buxton, but he regularly earned the checkered flag.
But Kirk retired from racing. He has other interests these days, including running for municipal council in the fall.
Chatham Mazda from Chatham Voice on Vimeo.
As for the transition away from racing to overseeing, he said he's somewhat content to be the crew chief for his son.
"Last time I drove, I won," Kirk said of how he retired.
He said he doesn't miss being behind the wheel, but admits it's not always easy being the crew chief instead of the driver, especially considering its his own flesh and blood in the driver's seat.
"I'm more nervous for him than his mother," Kirk said. "But we spend the money on the safety equipment, including his seat."
He added his son "has a real good attitude" when in the driver's seat.
Kirk said Jake is well received out at the track.
"The support for him is great," he said. "We never asked for sponsorships, but they all wanted to get on board."
Jake's racing career began at the tender age of 6 when he climbed into a go-kart to race competitively for the first time.
Jake said after seven years of racing at ground level, he got the itch to move into something much bigger, a stock car.
"My cousin drives dirt and I got interested," he said.
The transition has taken some getting used to.
"My first night, I drove like I was still in my go-kart, soft into the corner and hard out," Jake said. "In stock cars, you go in hard and come off hard."
But all that time behind the wheel of a go-kart, including several international victories, gave Jake invaluable experience, he added.
Jake got injured in a go-kart crash, which actually had the family wanting to get him into stock cars, despite the fact they are bigger and faster than go-karts.
Kirk said go-karts can still whiz around the track at speeds in excess of 80 km/h, and they just don't have the safety features a stock car has.
"His mom wanted him to get into a roll cage," Kirk said. We took the care to have the seat properly installed in London."
This certainly isn't the cheapest hobby for the Hooker clan. But Kirk takes it all in stride.
"I'm not a hockey dad or a baseball dad. I'm a racing dad," he said. "This is affordable racing. We support the local dirt track."
Comments
comments