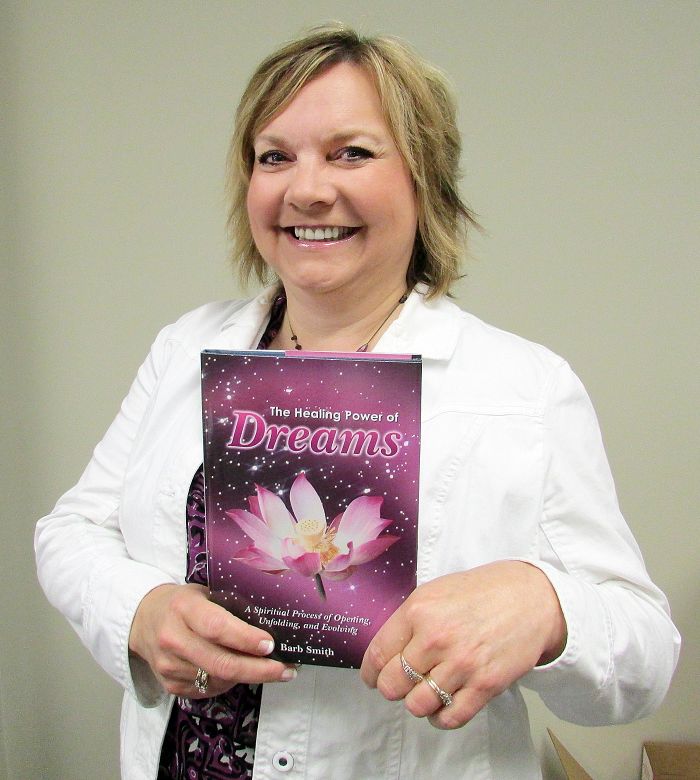 Mitchell's Bay resident Barb Smith shows off her new book, "The Healing Power of Dreams."
Mitchell's Bay's Barb Smith says she's always been a dreamer. But it wasn't until she began to interpret her dreams that her life became much clearer.
Smith has taken her interpretive talents to print. She recently published a book, "The Healing Power of Dreams."
Smith said she has rather vivid dreams and works to remember them.
"I've always been a dreamer. I didn't realize I was, and I just thought everybody dreamed the way I did," she said. "And I've always analyzed people's dreams."
Chatham Mazda from Chatham Voice on Vimeo.
A key component to being able to analyze dreams is for the dreamer to actually remember their dreams. Many people wake in the morning thinking they didn't dream through the night, when in reality they did. Others have a fleeting recall of their dreams before they fade from memory.
"A lot of people don't remember their dreams. I talk about dream recall in my book. It's like a muscle. You just have to exercise it," she said of the ability to remember one's dreams.
Smith said friends and coworkers had long told her she should write a book about dream analysis.
"They said I had a natural ability to explain it (a dream) to people in a sense that they can understand and relate to what's going on in their lives," she said. "It's amazing how you can do that. The analogy of the dream – it's like an 'ah-hah!' moment for them."
Still, Smith wasn't convinced she should put pen to paper. First she had to fully comprehend her own dreams.
"I wasn't convinced until I started analyzing my own dreams in more depth. It became my quest to answer a question of my own," she said. "The answer I was looking for was in regards to my relationship with my mother. We were estranged most of our lives for various reasons.
"Through analysis, I was able to receive a very powerful message. I was able to heal our relationship."
Smith said she came to realize through dream analysis that using her old methods of dealing with her relationship difficulties with her mother and expecting a different outcome was doomed to fail.
"I tried to envision our relationship in a different way, a change for the better, and to focus on the good qualities," she said. "As soon as I was able to do that, I saw things from a different angle. Some very powerful dreams were presented to me. But they didn't come until I was ready; not until I was ready to see things differently."
Smith said what she does isn't rocket science, as anyone can analyze their dreams. It just takes a shift in perspective.
"You can heal yourself, or find out information," she said, adding her book helps show people the path.
"My book is an appetizer to something grand. I wrote it in a way that's more of an introduction to people to pay attention to their dreams, pick them apart, analyze them and change their lives," she said.
It's a matter of letting your conscious mind understand what your unconscious mind already knows, Smith said.
"We understand unconsciously, but not in our conscious lives. If you understand fully, you can really change your whole life," she said. "You are able to decipher the message, because that's what dreams are, a message."
Smith is proud of having been published, but said if she had known how difficult and lengthy the process to get published was, she likely never would have undertaken the task.
"The thing is, if I had known how challenging it was going to be to get it completed – not the writing, as that is fun and easy – I don't know if I would have attempted it," she said. "I went to New York in October of 2012 and took a writers' workshop. It gave an overview of what to do to present to a traditional publisher, with a book overview and analysis. This was really time consuming – one document alone was 78 pages long."
After all that, Smith, who was part of a competition where only one writer was chosen to be published, didn't receive publishing approval.
She said she then went down the self-publishing road, spending a fair amount of time on the phone so the publishing company could get to know her, before sending in her manuscript.
"It's also a huge process for an online submission, but it was a great learning process," Smith said.
She ultimately connected with Balboa Publishing, who recently printed her book.
Now that she's walked the difficult publishing path, she said she'd "definitely" do it again, considering she cleared the massive initial roadblock.
Comments
comments