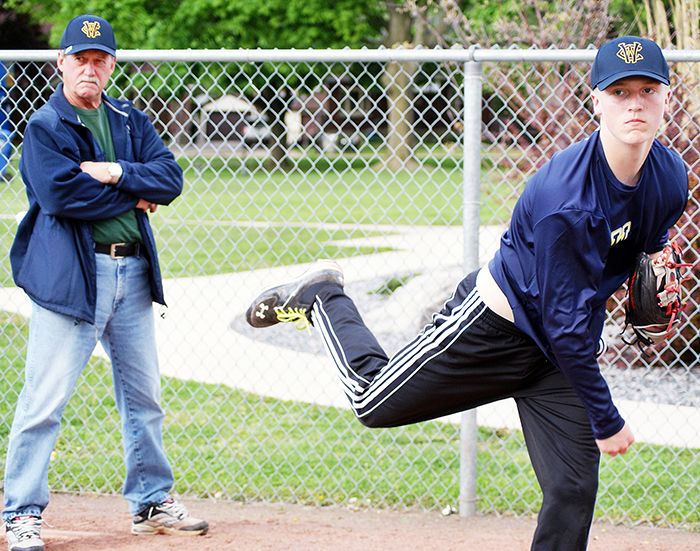 No player on the Western Counties Wolverines Under-14 baseball team was alive to see Bill Atkinson pitch in the Major League's during the 1970s. In fact, many had likely never heard the Chatham resident's name, unless their parents had mentioned him; until this season that is.
Atkinson pitched for the Montreal Expos in the late 1970s. He's now helping Chatham's only AAA level baseball team by working as the team's pitching coach.
"It has been fabulous having Bill Atkinson as our pitching coach for the Western Counties Wolverines," said Wolverines head coach Brendan Spence. "He has developed an outstanding rapport with every single player."
LEADWAVE Technologies from Chatham Voice on Vimeo.
Atkinson has been working with the Wolverines for several months at Chatham's new indoor baseball facility, the Ewald Field House.
The Wolverines are winning, and turning heads across Ontario, in no small part due to Atkinson's coaching of the Wolverines pitchers. Atkinson has his teen pitchers listening closely, and following his instructions, to the word, to improve their games.
"The players have listened attentively and soaked up every bit of advice that Atkinson has offered," said Spence, who believes the Western Counties pitchers are blessed to have one-on-one coaching from a former Major League player on a weekly basis.
"The kids really listen and pay attention," echoed Bill Atkinson, who played 98 MLB games between 1976 and 1979. "Their form is coming along and their arms are going to be good as they get bigger and stronger. They're so young and think they're invincible, so we're focusing on form."
That focus on technique is giving Chatham's brightest young baseball stars an edge, and according to Wolverines pitcher Connor Goldsmith, having Atkinson beside them during practice has been a major confidence boost.
"He boosts your confidence no matter how you pitch," said Goldsmith, one of the area's top baseball prospects. "He's been teaching us new grips to get better movement on the ball."
For the Wolverines, it's easy to listen and take the technical advice from Atkinson because of the experience and passion for the game he brings to the field.
"It's really cool to hear from a guy that has the experience he has," said Goldsmith. "It shows you how hard you have to work to get to that point, hearing the things he knows about the game."
Bill Atkinson quietly takes the praise, but he's also the first to return it, saying he sees a lot of potential in several of the Western Counties pitchers.
"Right now we've got a few guys that have real good form, and real good speed on their pitches," said Atkinson who is working on the fastball and change up with his young pitchers, avoiding breaking pitches for the time being.
"What I'm really looking at is trying to keep their form so they don't get sore arms or hurt themselves. That's a big problem with young kids, but this is a good group and they've come a long way," added the John McGregor graduate, who was inducted into the Chatham Sports Hall of Fame in 1999.
According to Atkinson, for many on the Western Counties Wolverines team, six of whom hail from Chatham, the sky is the limit, if they continue to work hard and soak in the information they're given.
"If they pay attention to their coaches, what Brendan Spence and I are teaching them, they'll improve as they get bigger and stronger, and have a chance to move on in the game."
Atkinson would know, as he's one of only a handful of baseball players from the area to crack the professional ranks. For the former Major Leaguer, coaching the next crop of potential stars is his way to give back, something he said any of Chatham-Kent's success stories would do.
"It's more or less my way of saying thank you to Chatham for giving me the opportunity to do what I did," said Atkinson. "Fergie Jenkins would be the same, Doug Melvin would be the same; everyone chips in in their own way. We don't really care to be recognized for it, but we're here to help."