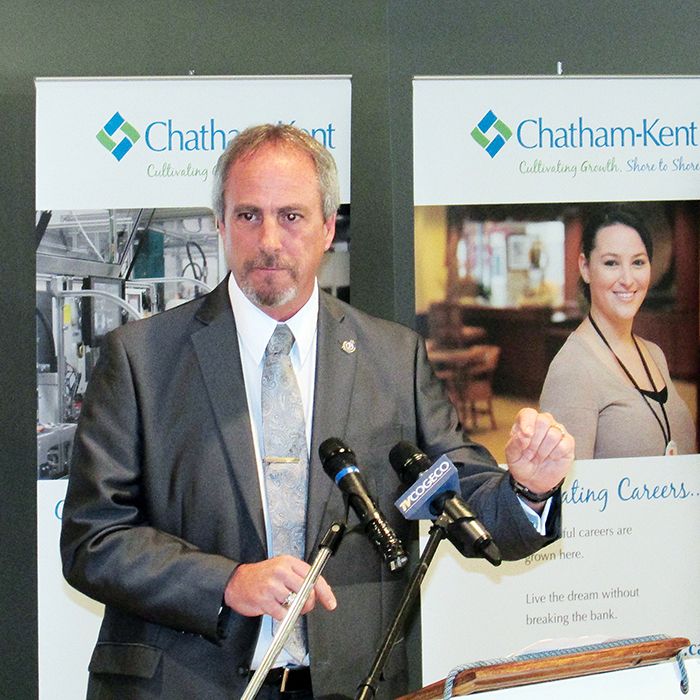 Chatham-Kent Mayor Randy Hope addresses a breakfast audience of members of the Chatham-Kent Chamber of Commerce Thursday at Aristo's in Chatham.
In a morning address to local business leaders in Chatham, Mayor Randy Hope hinted that upwards of 700 new jobs are very close to coming to Chatham-Kent.
In his annual speech to members of the Chatham-Kent Chamber of Commerce, Hope said he'd wanted to officially announce the jobs, "but we can wait a bit."
He cited the June 12 provincial election as why the deals aren't finalized, as investors wait to see how the political landscape will look in Ontario, come June 13.
LEADWAVE Technologies from Chatham Voice on Vimeo.
"I'm very positive it (the 700 jobs) will finalize; I'm 99% sure," he said. "But I've been at 99% for a while."
He said the jobs would be in more than one facility, but declined to elaborate further.
At the breakfast gathering of more than 80 people, Hope spoke at length about how hard municipal economic development officials are working to entice development to C-K.
"Economic development – they are doing enormous work. They have so many files on the go," he said. "We've got on the stage where we need to be and we are pursuing opportunities."
Hope said the trips overseas are building relationships.
"Everybody believes these trips are vacations. They are not vacations. We need to be out there," he said. "There are Chinese investors with deposits on land waiting to move forward."
Hope said the provincial election is what is holding up matters. He is also frustrated with how senior levels of government develop economic strategy, but are slow to share it with municipalities.
"The federal and provincial governments don't communicate with municipalities, but reap the benefits," he said. "We do all the work. Communities, we're the economic stimulus. We are out hustling."
Meanwhile, he said it takes a team effort to evolve a municipality so it is appealing to businesses and their employees.
"It's us, us, us – chambers of commerce, the business community and local government. We need to do it (build an attractive, healthy community) so it can be achieved. By promoting our communities as one, we can do it. We all need to be promoters so we can continue to wow visitors."
Tony Hill, chairman of the Chatham-Kent Chamber of Commerce, appreciated the mayor's message.
"Your address matches your last name," he said to Hope. "City hall, I believe, is working very hard. I'm very optimistic."
Hill, who moved to Chatham from Toronto a couple of years ago, said he's excited for every potential new development for Chatham-Kent, whereas he was pretty much indifferent to such Toronto developments when he lived there.
"We definitely chose the right community," Hill said.
Comments
comments