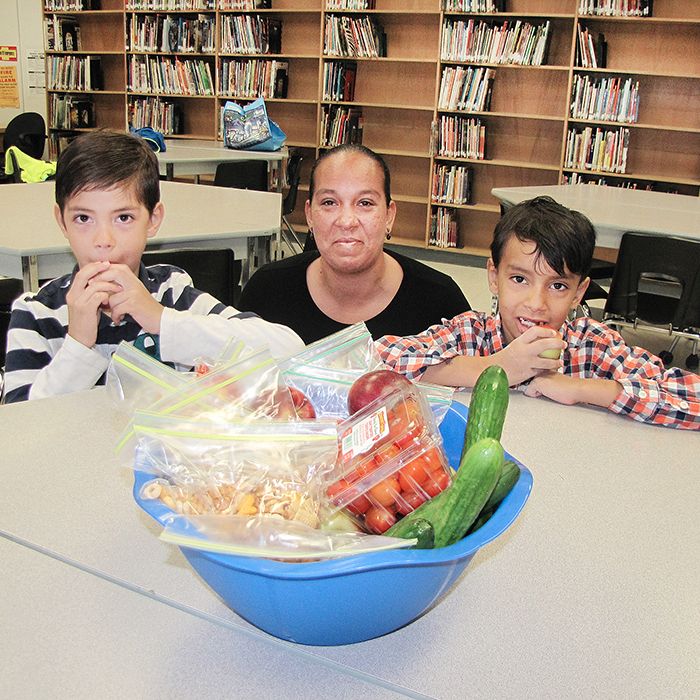 Kids are eating more local fruits and vegetables thanks to Chatham-Kent's first Farm to School Nutrition program.
The pilot project, launched on March 31, delivers locally grown fruits and vegetables to 1,700 children at eight participating schools.
Eight farmers are providing apples, peppers mini-cucumbers, cherry tomatoes and dehydrated sweet potato chips to students four days per week.
"All the product being brought in is picked up at local farms and delivered to our local school children so that they'll know where their food is coming from," said Elaine Lewis, food co-ordinator of the C-K Student Nutrition program.
LEADWAVE Technologies from Chatham Voice on Vimeo.
Running until June 6, the pilot program is aimed at getting people to eat healthier food.
"Our people in Chatham-Kent are low in their consumption of fruit and vegetables," said Lewis. "According to a health unit survey, we are the lowest in Ontario. So we want to increase that consumption in any way we can."
The program is also a boost for farmers who are being paid at market value for the products.
It has also has turned out to be a good deal for the program.
"We're finding that by bulk buying and dealing locally that we're getting good pricing," said Lewis. "I think we're working on about 17 cents per snack here."
Organizers are pleased with the success of the program as it crosses the halfway mark.
"We found they will eat more when they're with their peers than they will at home," said Lewis of the students' response. "And they are going home and asking the parents for some of these products they're getting at school."
The program partners, including the Chatham-Kent Public Health Unit and the Victorian Order of Nurses, are planning to expand the program.
Lewis said there is support for the next three years.
"We want to evolve some kind of central ordering system so that our volunteers at our schools can also take advantage of that and they can order online for what they want for the children in their schools," she said.
A number of participants, including the farmers, teachers, parents and students, will be asked to evaluate the program after the trial-run ends in June.
Aside from the pilot project, the C-K Nutrition Program provides healthy meals and snacks to more than 50 local schools.
Over 5,200 students are registered in the program.