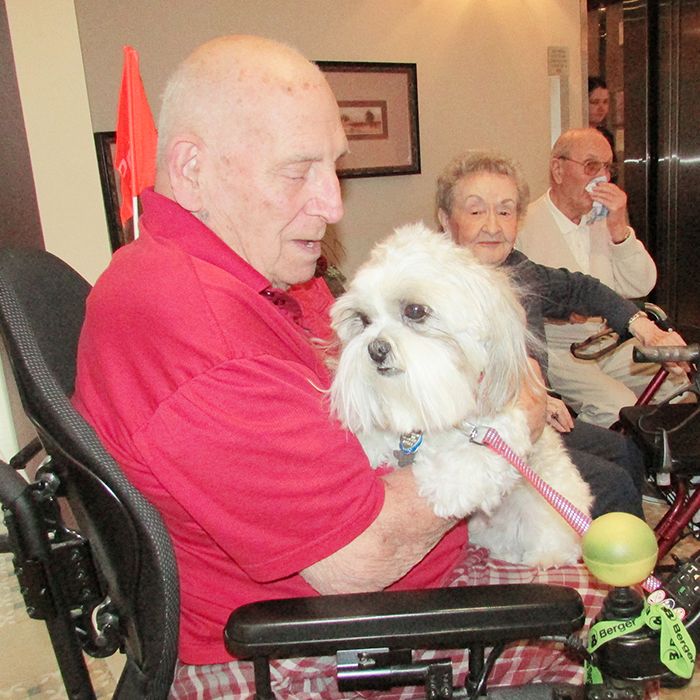 Dogs love to get scratched behind the ears. But in many cases, the people doing the scratching benefit as well.
Look no further than the St. John Ambulance therapy dog program. There are about 25 dogs involved in the Chatham and area branch of the program, visiting long-term-care facilities and the Chatham campus of the Chatham-Kent Health Alliance.
The animals go into facilities to bring comfort and companionship to folks.
LEADWAVE Technologies from Chatham Voice on Vimeo.
One such dog, Teddy, a shih tzu, was on the job recently at Caleb Village. As his owner Shreeni Lafontaine carried Teddy through the front door and into the lobby, faces lit up.
Teddy was like a magnet. Folks dropped what they were doing and came right over to give the little guy a pet or a hug – or both.
Caleb resident Bev Prevett is one of the many folks who enjoys his time with Teddy.
"It's really nice to come and pet him. He makes people smile," he said.
Teddy is an OSPCA rescue dog. Lafontaine said she adopted him five years ago after he was picked up as a stray.
She thinks he came from a good home, but just got loose one day and got lost. His temperament makes him an excellent therapy dog.
"The reason why I got involved is I knew this is what he would enjoy. This is his calling," she said. "He seems to sense what he's needed to do. He lies in some people's beds."
And Teddy is determined to do his job. Meadow Park long-term-care facility in Chatham was closed to visitors last week due to a respiratory illness outbreak, so the little pooch couldn't get in to see his people.
"Teddy got antsy. I didn't know why he was like that. And then I realized he missed his appointment," Lafontaine said.
Brenda Waldie, co-ordinator of the program here, said there aren't enough dogs to go around.
"We're looking for dogs with good temperaments. They can't growl and can't show any aggression," she said. "They have to show good leash manners and have to walk well on a leash. We can't have dogs jumping up on seniors."
Not all therapy dogs are Teddy-sized lap dogs. Some are huge mastiffs, Waldie said. It's all about the attitude.
Waldie said the mastiffs are large dogs – think of the dog in the movie "Turner & Hooch" – but are well under control.
"I thought people would be afraid of them, but they aren't," she said. "Some people really like the small dogs, some the big dogs, but others, hey, any dog. We just want good-natured dogs."
Waldie said being an owner of a therapy dog is also very beneficial, because you see the joy your dog delivers to others.
"You get to do something with your dog, and you also get the reward with seeing the reaction from the people," she said. "You visit someone for a few minutes and they say, 'Thank you for coming. You made my day.'"
Waldie said not any dog can be part of the program. There is a pre-evaluation process where program personnel discuss with a dog's owner what's involved with visiting, what paperwork to expect and what the evaluation process is like.
Waldie said after a dog passes the evaluation process, its first four visits are mentored, as well as the 10th. At that time, if all goes well, the dog gets his or her "Please Pet Me" therapy bandana and an official therapy dog ID medallion, both of which readily show people the dog is safe to approach for a scratch and a petting.
The dog's owner also receives a T-shirt identifying her as a member of the program.
Just be prepared to draw a crowd of smiling faces as soon as you walk in the door.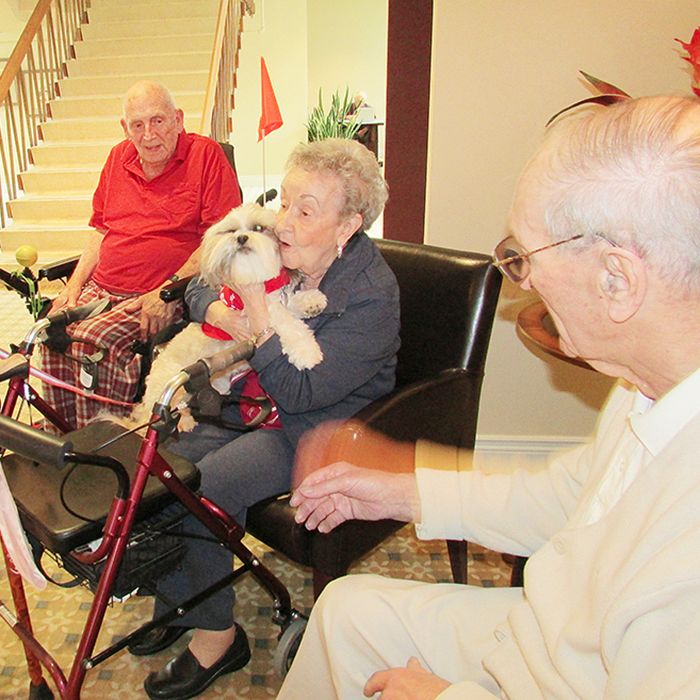 Comments
comments