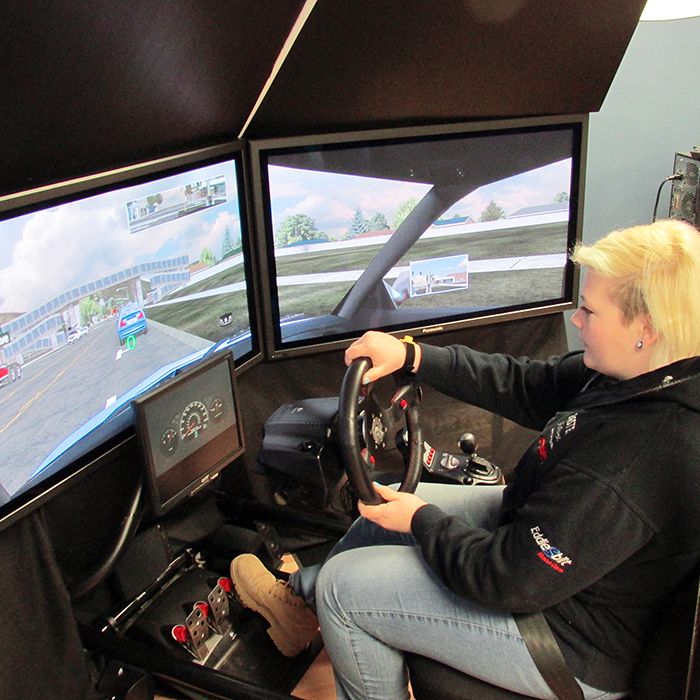 It's not often you hear a software-driven machine referred to as a "Godsend" and a "blessing," but to the instructors at DriveWise, their state-of-the-art driving simulator is just that.
"I can't imagine teaching someone to drive without it," said instructor Dan Giroux. "The first time I saw what the simulator could do, I got goosebumps."
The device consists of a driver's seat, controls for steering, acceleration and braking and three screens. The screens simulate a driver's view of the road and provide a moving image through which the student guides the "vehicle."
The simulator is part of a four-day session in which prospective drivers learn in a classroom setting and then have the lessons reinforced through the simulator.
"The real goal of the simulator is to teach students proper techniques needed for defensive and co-operative driving," said instructor Gary Rose. "When the students get into the car for road lessons, they respond so much better because of the experience in the simulator. They're more prepared and relaxed."
Rose said not every student likes the simulator at first.
"We have some students who are apprehensive, but after going through the course, they find out that they are a lot more focused because of the experience."
Giroux said although the simulator has been used by DriveWise for a number of years, the programming keeps it fresh.
"Whenever there is any change in traffic laws, that information is fed through the system so everything is up to date."
Giroux said a larger simulator is brought in and used for professional drivers of larger vehicles.
"We've trained firefighters, dump truck and snow plow operators," he said.
Soon-to-be 16-year-old Julie Saunders, a DriveWise student, said the simulator gives her a feeling for street driving.
"I get an idea of speed, braking and where to look," she said.
Although she doesn't have her license yet, Saunders has been driving in the bomber class at South Buxton Speed Raceway for two years, finishing ninth last season. Julie is the daughter of longtime local Buxton racer Wayne Saunders.
Comments
comments