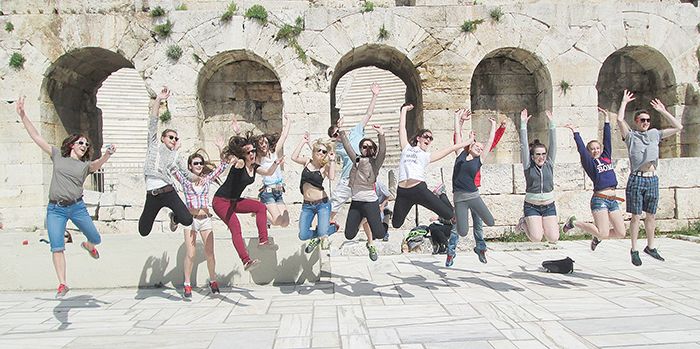 A group of 60 Ursuline College Chatham students escaped the cold spring of Chatham-Kent for a trip of a lifetime, as they recently visited Italy and Greece.
The 16-18 year olds travelled to such places as Florence, Rome, the Vatican City, Pompeii, and Athens, seeing such historic sites as the Coliseum, the Acropolis and the Sistine Chapel.
Teacher Cheryl Doer, one of the chaperones, said the trip took place over the March Break, and packed in a great deal of history.
It was open to all students at UCC who are aged 16-18. The trip sold out in three days, Doer said.
Student Sophia MacLean said it was a cultural awakening, and not just for the historical landmarks.
"How people interact with one another in Europe is very different," she said. "They are a lot more open with their emotions."
And then there is the haggling. The price on an item is generally not the final price to be paid.
Even the food was surprising.
"They always feed you the pasta first," Jocelyn Smit said.
"Food and food and food," Jacelle Morrison said. "It never stopped coming."
Communication was rarely an issue, as the students said most of the people they encountered knew several languages. It didn't hurt that several of the students were French Immersion kids too.
"We're in French Immersion. It helped to understand Italian better," Smit said.
In terms of stepping back in time and visiting various places of historical significance, the trip's participants were humbled.
Smit said the Coliseum is a site to behold in person, and is much larger than she expected.
MacLean said it seems typical, however.
"Everything is stunning. And the detail – if they did something, it was 110%," she said.
The students even found the old streets a treat to behold. Different kinds and colours of marble really made things stand out, Miranda Nooyen said.
Various paintings at the Vatican caught their eyes, as the students were amazed how stories were told in such vivid detail.
Morrison described Pompeii, a Roman city that was buried under ash after Mount Vesuvius erupted in 79 AD, as very pretty. The city was lost for more than 1,500 years before being rediscovered. The thick ash preserved much of the city as it was at the time of the tragedy.
Nooyen said she'd seen a documentary on Pompeii, but to see the site firsthand was incredible.
MacLean said you could feel the sad history there.
"How much tragedy to have a whole city destroyed?"
Doer said the tour participants also saw bodies that had been entombed by ash.
But not all the trip was as sombre as Pompeii. The students enjoyed such things as a chairlift to the top of a mountain in Capri, revealing a stunning view of the neighbouring land and sea.
The trip to Italy and Greece exposed the students to different cultures and ancient history. But it also exposed them to their dreams. Many want to return.
"I'd go back right now. I'd love to live there and learn a new language," Morrison said.
Doer said the excursion has left a number of students thinking they might spend a summer in Europe
She added plans are in the works for a trip to Europe next year as well, but Spain is the targeted destination. Any students interested should e-mail teacher Joseph Vasko at room501guy@hotmail.com.