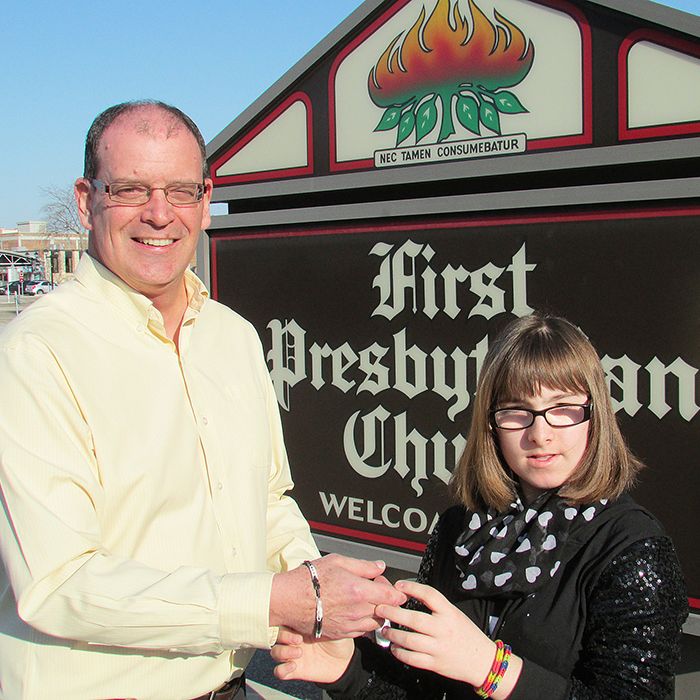 Morgan Kellam, right, places an elastic-band bracelet on the wrist of Pastor Mike Maroney of First Presbyterian Church. Kellam and her parents made and sold hundreds of the bracelets and raised more than $1,300, which they donated to First Presbyterian's Saturday soup kitchen.
Morgan Kellam wove her $25 Kingdom assignment into a donation of more than $1,300 to a local soup kitchen.
The Grade 8 St. Vincent School student received the $25 to start the project, which is designed for students to think of the funds as God's money. It must be used outside the school's walls to further God's Kingdom.
Morgan said it took a little time to figure out what to do.
"I wanted to invest with my $25. I thought, 'Why not help the homeless?'"
She targeted the Saturday Outreach Breakfast program at First Presbyterian Church in Chatham.
Her plan was to make elastic-band bracelets on her Rainbow Loom and sell them to raise money for the soup kitchen.
LEADWAVE Technologies from Chatham Voice on Vimeo.
Morgan's mother Ria Kellam said the family initially hoped to raise perhaps $100.
"We aimed for $100, but in a week we had more than 100 sold," she said.
The family realized it was onto something, spreading the word through friends, family and their church. Morgan's father, Glenn Kellam, a trucker, took the fundraising on the road.
"Places helped sell them for us," Ria said.
The fundraising spiraled from there.
"We did well. It was so much fun doing it," Glenn said, recalling the many nights spent around the dining room table making the bracelets. "To think in the beginning we were wondering how we'd make 100."
Ria estimated each bracelet took 10 or 15 minutes to make. They were capped off with a little elastic cross, made by Ria with the help of crochet needles.
Saturday morning, they presented First Presbyterian Pastor Mike Maroney with a cheque for $1,318. He was floored by the effort.
"We are incredibly thankful for this," he said. "Morgan doesn't even go to our church, but thought of our breakfast ministry."
On a typical Saturday morning, the program, in its 12th year, feeds 90-150 people.
"The need is great," Maroney said. "A gift like this is just fantastic. This came out of the blue."