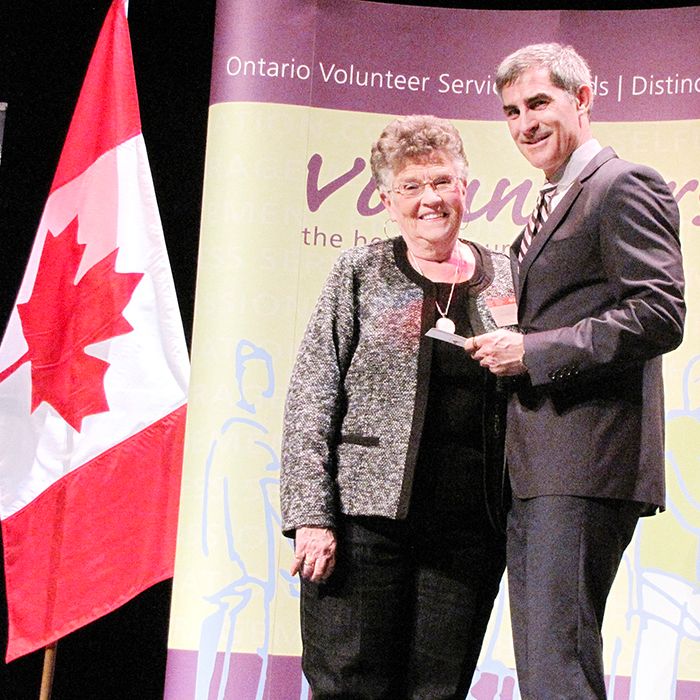 Chatham-Kent's strong spirit of volunteering was on display Wednesday as 165 people were recognized for their commitment to the community.
The Ontario Volunteer Service Awards were handed out during a ceremony at the Capitol Theatre in Chatham.
Volunteers serving a wide a variety of organizations received certificates and trillium pins to mark various years of service – from five years to more than 40.
Youth were recognized for two or more years of volunteer service.
"We reflect on the commitment and the dedication of the volunteers who have contributed not only their time and their effort, but who have a vision of a stronger and more caring Ontario," said Colleen Moran of the Ontario honours and awards secretariat of the Ministry of Citizenship and Immigration. "We salute many of our friends and neighbours who have offered much to their communities through their years of continuous service to a single organization."
For Dorothy Cook, who was recognized for more than 40 years of service to Community Living Chatham-Kent, the most rewarding part of volunteering is watching people grow and prosper.
As the mother of a handicapped child, she started volunteering when her daughter was two years old.
"You see the ones that are handicapped and how much they can do with just perseverance and help … it's amazing," said Cook.
Jean Elliott was also honoured for more than 40 years of service. She plays the piano and organ at Riverview Gardens in Chatham.
"I think it's just to bring happiness to other people," said Elliott of her volunteer experience that started when she was asked to play for the Chatham Organ Society.
Another highlight of the ceremony was the presentation to the Tremblay family.
Kevin, Tammy and their three sons, Braedyn, Dustyn and Coltyn were recognized for their work with the Chatham Goodfellows.
Kevin said they enjoy helping out with the annual campaign whose motto is "No Child Without Christmas."
"That's what drives us the most is to make sure we can help out us much as possible in any way, shape or form, and then carry on with life through that," he said.
Another popular award recipient was Molly, a six-year-old border collie that works as a St. John Ambulance therapy dog, providing comfort and companionship to the residents at Copper Terrace.
"We spend between four and five minutes apiece and they pet her," said Diane Watson, who received the award with Molly. "One time she jumped in bed with one of them, and I was horrified, and the lady said, 'No. Let her stay here,' because she just curled up beside her. Everybody loves her."
Brenda LeClair, executive director of Outreach for Hunger, said many local community organizations and services would not exist without volunteers.
With more than 100 active volunteers helping Outreach for Hunger, she said they're the backbone of the organization.
"I think it is important to recognize them because we could not pay for the hours that were recognized tonight," said LeClair.
The event in Chatham is one of 55 Ontario Volunteer Service Award ceremonies that are being held across the province that will celebrate the contributions of more than 11,000 volunteers.
Comments
comments