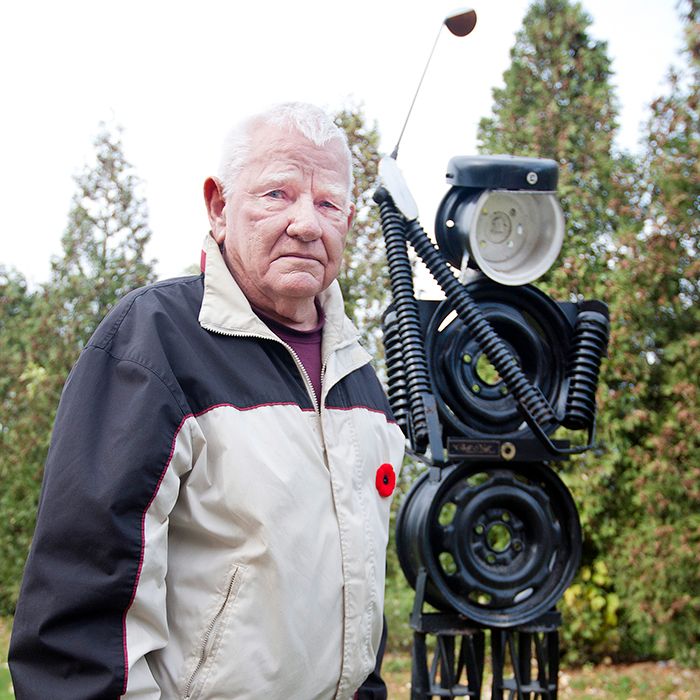 Bill Neff, 83, a former blacksmith and golf course owner, stands in front of the steel structure of a golfer he created a year ago at his son-in-law's. Fondly calling it the "Iron Man," the structure now sits permanently at the Southside Athletic Centre on Charing Cross Road where it was erected last spring.
With the golfers itching to get back on the course this spring, Bill Neff is hoping the iron structure he built, which was erected a year ago at the Southside Athletic Centre, fared well against the winter extremes. The piece of art, which has been dubbed "The Iron Man," is the figure of a golfer raising his club just before taking a swing.
Riverview Bingo Palace 02 from Chatham Voice on Vimeo.
Neff built the piece – which stands well over six feet tall and weighs more than 750 lbs. – at his daughter and son-in-law's shed as something fun to do. "We travel quite a bit and I've seen men made out of stove pipes and I've seen a muffler shop with a man made out of mufflers," said Neff. "I thought it would be pretty cool to make a man out of something." He has had a lifetime's worth of various past careers, all of which he said he enjoyed, and they helped him get the idea for the structure. Neff started as a blacksmith and welder, learning the trade from his father. He bought a welding shop on Lacroix Street in Chatham, changed the name to Neff's Welding and ran it for a few years before it was eventually pulled down to make way for the bridge running over the River Thames. During that time, Neff produced a lot of wagons, ornamental porch railings and even the archway for the veterans' plot at Maple Leaf Cemetery. His interest in golfing caused him to start a league while he was working for a hydro company. Over the years, he became the golf course owner of the Indian Creek Golf & Country Club where it became a family venture with his wife Donna. Now retired, Neff, 83, settled on the idea of a golfer fairly easily, and used an hour or two of his spare time to creatively build the human features using old wheels, rollers and mower blades for the face and torso while using an old pan for a golfing hat. "Part-time, it took me about four months," said Neff of the time it took to assemble the golfer. "Just when I had time, I would run out to my daughter's. Any day it wasn't too cold." Neff gathered all the parts he needed when he stumbled upon someone looking to get rid of the worn-out metal. "I thought, 'There's something I can use,' and I asked if I could have it," said Neff. After completing the golfer, Neff asked himself where it would be placed. Neff approached Brian O'Rourke, the owner of Southside Athletic Centre, and he was thrilled with the idea of displaying it. "He was happy to have it there," said Neff. "And he's said it's gotten a lot of comments." While Neff said he has plans to make more structures in the future, it's not a priority at the moment. "I don't know what I want to do," said Neff. But that could change tomorrow. "I'll see something and I'll think of something."
Comments
comments