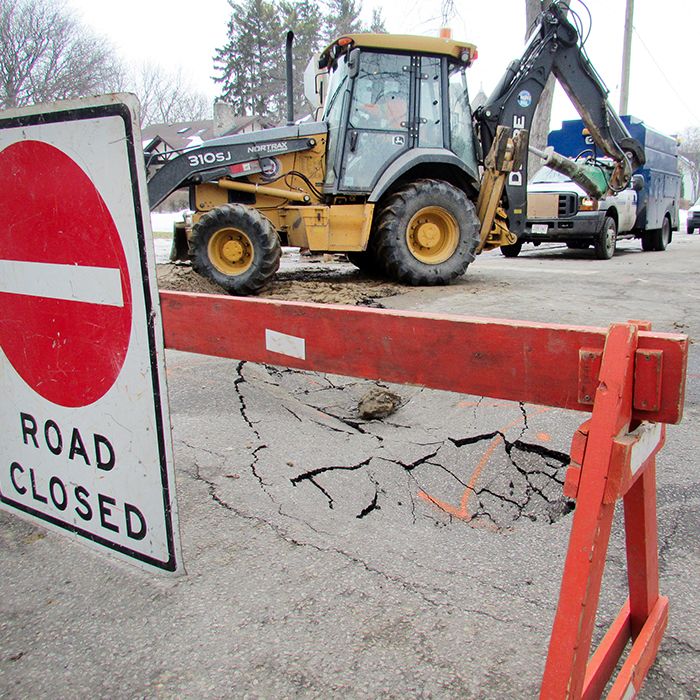 Sinkholes, potholes and flooded roads – that's the kind of season it's been so far in Chatham-Kent.
And it's likely going to get worse before it gets better when we get our first big rain storm of the spring.
In the span of a week, sinkholes cropped up in Chatham in three high-traffic areas, and two rural roads were closed due to flooding.
LEADWAVE Technologies from Chatham Voice on Vimeo.
In Chatham, the pavement collapsed at the intersection of Amelia Street and Victoria Avenue March 11, forcing the closure of Amelia for a block. In the middle of the snowstorm on March 12, a chunk of Grand Avenue, just east of St. Clair Street, dropped away. And on Monday night, another sinkhole opened in the northbound Lanes of St. Clair Street, just north of Grand Avenue.
Thomas Kelly, general manager of infrastructure and engineering services, said Public Works crews have been particularly challenged this year.
"It's a bad year. What we've experienced recently is winter control and then catch basin clearing and then working on potholes. (Last week) we started with potholes and sinkholes and then back to winter control," he said.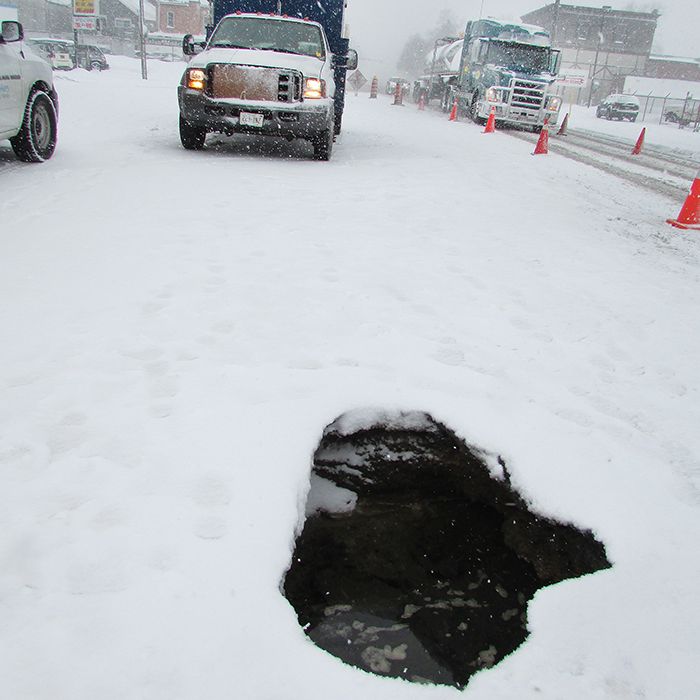 Kelly said the weather extremes, in terms of temperatures and precipitation, are doing damage.
"It puts more pressure on underground infrastructure," he said of watermains, some of which have ruptured due to the fluctuating temperatures. "Some of it (infrastructure) dates back more than 100 years. And it's going to get worse before it gets better. We're going to be really challenged over the next month or so until the frost comes out of the ground."
Mark Ceppi, an engineering technologist with the municipality, said the rural road flooding isn't surprising, given our harsh winter, but at the same time, it's odd.
"Some of the flooding has been a little unusual due to all the snow," he said. "There's nowhere for the water to go."
Many fields are under water as the neighbouring ditches are chocked with ice and snow. The only place for the water to go at that point is the plowed roadway.
Sections of Pollard Line southeast of Tilbury, and Lagoon Road north of Shrewsbury were closed at times last week due to the runoff.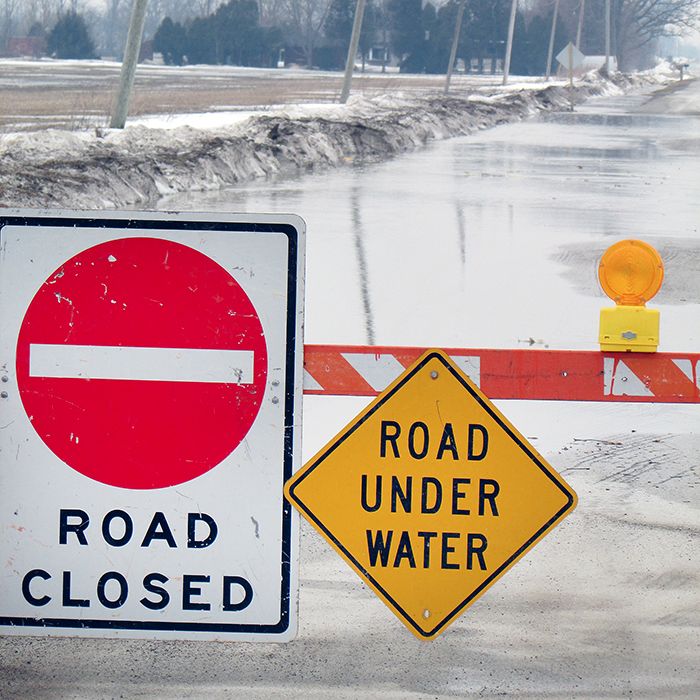 Other roads may be open, but they are a soggy mess.
"When the frost starts breaking up, the gravel roads tend to get quite soft," Ceppi said. "We are at half-load period right now. It can last until the first of May."
The half-load restriction – where load levels for vehicles using the roads is half of normal limits – is in effect until the frost comes out of the ground.
As the roads take a pounding with water from below and above, concern will soon switch to our waterways. Kelly said the ice on the Thames River is thick enough that a fast melt could cause ice jamming and resulting flooding.
"Ideally we get escalating temperatures, but at a very slow rate. But obviously that's not how it's going to happen," he said.
When winter finally releases its grasp, Kelly said work will begin again on St. Clair Street.
He said there are about 50 days of work left to finish off the resurfacing of the street from Grand Avenue to McNaughton Avenue.
"We hope to start at the end of April. But again, we're waiting for the frost to get out of the ground," Kelly said.