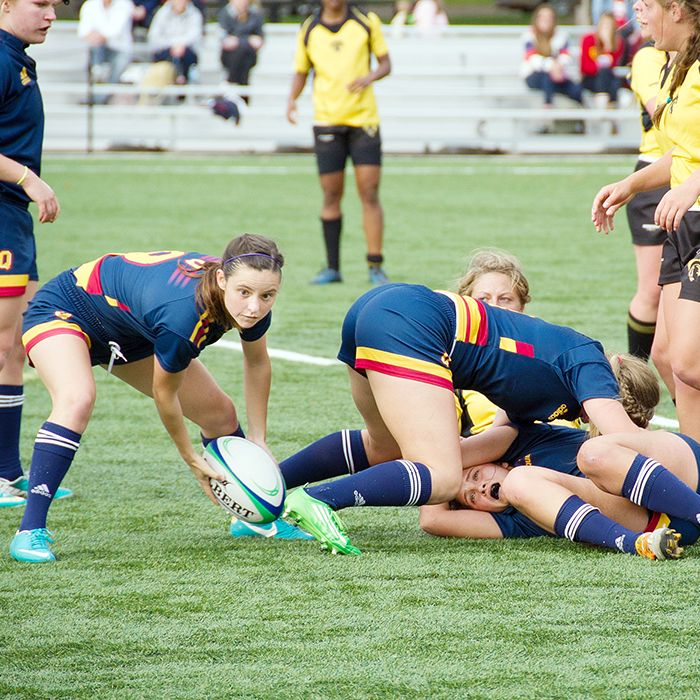 When a first-time fan looks out on the rugby pitch, he or she might see a game that appears violent and barbaric. That assessment couldn't be further from the truth. In reality, rugby is a game filled with camaraderie and respect, and provides athletes an opportunity to learn valuable lessons about life and sport.
In particular, for young women across Chatham-Kent, the game has continuously grown over recent seasons at the high school level, and club level with the Kent Havoc. The welcoming and accepting environment promoted by Chatham-Kent's rugby clubs, which focuses on mutual respect, seems to be drawing young women to the sport.
Riverview Bingo Palace 02 from Chatham Voice on Vimeo.
"Speaking from experience, rugby will build confidence," says Kent Havoc women's captain Sarah Whitelaw. "It offers an environment of acceptance, which lets one grow without feeling pressure. There is no particular body type that makes you a better rugby player. Youth will discover that it builds character and enables them to determine where they are best fitted."
With that confidence, and cultivation of talent in a safe environment, come results. Two local athletes, Breanne Nicholas, who was the Ontario University Athletics (OUA) rookie of the year with the Western University Mustangs, and Sydnee Nolan, who won an OUA title with the Queen's University Gaels, are shining examples of the talent development occurring in Chatham-Kent. According to these athletes, the lessons they learned through rugby have helped them reach a higher level.
"Rugby teaches you a lot, both on and off the field," said Nolan. "It teaches athletes skills like dedication, hard work, commitment, and time management. Through rugby I've learned how much I am truly capable of. When you are utterly exhausted and feel like giving up, that is when you have to push the hardest and perform your best, and rugby has showed me just how much I can accomplish and how far I can go."
Last season, more than a half dozen Chatham-Kent athletes competed in women's rugby at the OUA level. According to Whitelaw, the development of the women's game in Chatham-Kent is a result of a strong high school program, which has been dominated by Blenheim and UCC in recent seasons, but has also featured teams from CKSS and Wallaceburg.
"Chatham-Kent has been very fortunate with its growth of girls' high school rugby," says Whitelaw, herself a former OUA rugby all-star with Trent University. "I think this can be attributed to the dedication and vision of the coaches and supporters. They have been successful despite many people's misconception of the game."
Nicholas, who represented Team Canada at the U20 Nations Cup in England this past summer, is a Blenheim product with multiple Kent titles, and Kent all-star selections to her name. Graduating from the Blenheim Bobcats high school program, Nicholas also credits the local high school programs and coaches with the success of developing talented rugby players in Chatham-Kent.
"Coaching, I feel, is one of the main reasons why so many athletes from the Chatham-Kent area are getting the opportunity to play at the university and college level," said Nicholas. "High school coaches and club coaches took their love, knowledge, and experience of the game of rugby and shared it to so many athletes, who also fall in love with it, who then shared their passion for rugby as well."
Love. That word is common when discussing rugby with local athletes, who find the game contagious, and who have received so much personally from being involved in the sport.
"I think that girls in Chatham-Kent are falling in love with the game and the rugby community, and those that are finding success at the university level are providing more awareness of the sport and really highlight the benefits of the game," explained Nolan.
Although rugby remains under appreciated by many in Southwestern Ontario's hockey mad communities, the game is growing, and organizers are encouraging boys and girls of all ages, at the high school, and club level, to just try the game. As Whitelaw says, once you do, rugby will instantly become a part of you, and it won't be easy to let the sport go.
"Rugby isn't just a sport," said Whitelaw. "It grabs you."
"Everyone is welcome to rugby," added Nicholas. "It is one of those sports that has a lot to offer and a lot to teach you. Once you've played the sport, it isn't just a sport anymore; it is a lifestyle, one that you will never forget."
Comments
comments