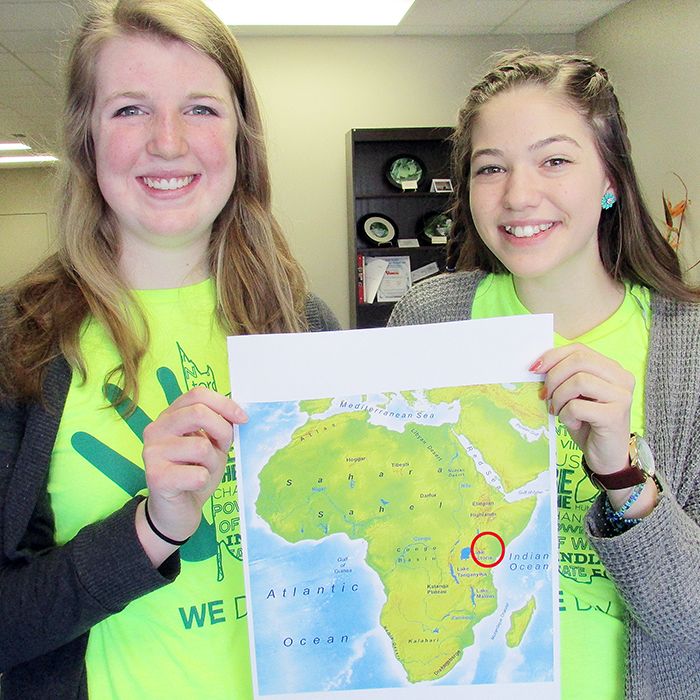 Emily Hiltz and Kaila Broadbent, two Grade 10 students at Ursuline College Chatham, will take part in the Me to We program this summer, sending them to Kenya.
People who shake their heads and complain about today's teens have never met Kaila Broadbent and Emily Hiltz.
The two Chatham teens in Grade 10 at Ursuline College are headed to Kenya this summer to put their concern for social justice into action, thanks to Free the Children's Me to We program.
Me to We is a program started by Free the Children co-founder Craig Kielburger from Thornhill, Ont. In 1995, then 12-year-old Kielburger heard the story of a child sold into slavery and later killed when he tried to advocate for children's rights. Kielburger was so impacted by the story he, and 11 of his Grade 7 classmates, started Free the Children to empower young people to fulfill their greatest potential as agents of change at home and across the world.
LEADWAVE Technologies from Chatham Voice on Vimeo.
According to their website, Free the Children is now an international charity and education partner with more than 2.3 million youth involved from 45 countries. The Me to We program provides an opportunity for teens interested in working for social justice to visit Third World countries and volunteer to build schools, help with water projects and make a difference in the lives of people living in poverty.
Ursuline College has a successful and growing Me to We program, and after attending a We Day presentation where they heard about volunteer trips like the one to Kenya, both girls were hooked.
"We will be part of a team building a school for girls and working on a water project," Broadbent said. "Me to We is a group students can join to help our community and third world communities. Education is really important and when we found out there were no school opportunities for girls, we wanted to help them get an education too. I've never helped out that way before and thought it would be a real eye-opener for me."
This is the first mission trip for both Broadbent and Hiltz and they are more than ready for the challenge.
"I've never been out of North America, so it's really exciting," Hiltz said. "My mom, when she was 23, went to Africa and has so many interesting stories. When I got involved with Me to We, I was really motivated by what I heard. When the youth co-ordinator called, I said, 'yes!'"
Hiltz's mom, a teacher, is so inspired by the Me to We program, Hiltz said she is working on starting the program at John McGregor Secondary School.
The trip to the Maasai Mara region in Nairobi, Kenya is not free, however, and each student has to come up with the over-$5,000 cost themselves. For Broadbent, she feels very lucky to be the recipient of a $1,000 grant from the Ursuline Sisters in Chatham and has a steak dinner planned in April that is already sold out. If needed, she will plan another fundraiser before the trip date of July 29.
"I was in tears; I was so thankful the Ursuline Sisters could donate that much to me, because I was at the point I might not be able to go," Broadbent said.
Hiltz said she is very thankful for her parents, who are paying for part of the trip. The Grade 10 student will be working to pay for her part of the cost.
"My parents told me I had to pay $1,500 and they would pay the rest, the same as they did for my sister's school trip," Hiltz said. "I'm very fortunate."
The 20-day trip includes 25 students who are chosen to participate from Canada, the U.S. and some parts of Europe.
Comments
comments