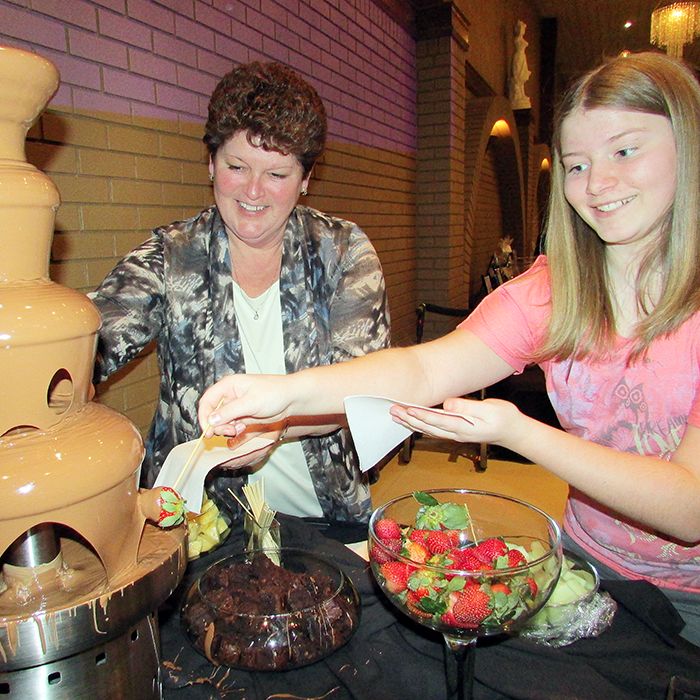 I attended heaven on Earth Sunday, and it was here in Chatham-Kent.
I'm talking about the annual VON Chatham-Kent Chocolate Lovers Brunch. The scrumptious event took place at Club Lentinas, and, yes, it offered much more than just chocolate.
I took our daughter, perhaps the leading lover of chocolate in our household. She wasn't disappointed.
Neither was the local branch of the Victorian Order of Nurses. This is a big fundraiser for them, and they said attendance was up this year.
And why not? The chocolate element was the proverbial icing on the cake, really. This event sported a live auction, silent auction, music by the Chatham-Kent Mountaineers, door prizes, a raffle, a share-the-wealth draw, and bountiful buffet.
Riverview Bingo Palace 02 from Chatham Voice on Vimeo.
We arrived, dropped our tickets into the draw for door prizes, found our table, and went to check out the silent auction items. The selection ran the length of two of the walls of the banquet hall. I resisted bidding on a Cecil Fielder autographed Blue Jays card and baseball (my daughter is the Jays' fan in the family, and she doesn't know who big Cecil is), but found a wall clock that I thought would look great in our living room. We went back and rebid on the item, thought we had a shot at it, but, alas, it was not to be.
Live auction items included an autographed TJ Brodie Calgary Flames jersey, overnight packages to Toronto to take in various sporting events, and dinner for six cooked for you in your own home.
But back to the food! We sat with some great folks from the Dresden Slots, and were right by the buffet. The smell of bacon tantalized our daughter, but we had to wait for folks from eight tables to go before we could sample brunch. As our noses were teased, my girl noticed staff had turned on the chocolate fountain.
So, she smelled bacon and saw chocolate. And waited patiently. I joked we just grab some bacon and drizzle it in chocolate. She didn't laugh, but instead smiled, and thought about it.
The buffet had everything from eggs Benedict and French toast to roast chicken and pan-seared fish. You couldn't take even the smallest sample of each dish and get it all on your plate. We focused on breakfast, filled our plates and returned to our table.
The option was there to return for seconds, but with decadent desserts waiting, we opted to head over to a corner of the room that would have made Willy Wonka proud. The plan was to make a beeline straight to the cascading chocolate coming out of the fountain, but our eyes forced us to detour towards a table of chocolate cakes, cheesecake, and other delights.
Steeling our resolve, we ventured forward, speared a variety of fruit and spun it slowly under the fountain. And we topped things off with a brownie each, also spun under the chocolate.
That brownie was perhaps the richest dessert I've ever tasted. Dare I say it was too rich? (My daughter may disagree, however.)
I couldn't go back for seconds, let alone go near a slice of cake. And then there was my daughter. She ventured in for Round Two. More fruit, and one square of what looked like a rather unique dessert. Chocolate held together a mix of popcorn, peanuts, cereal, and I think even a corn chip or two. The girl loved it.
We stayed for the auction, listened to some more of the Mountaineers, and then called it an afternoon.
Hats off to the VON. They put on one heck of a tasty spread.
About four hours after we got home, my wife asked us if we wanted dinner. My daughter and I looked at each other, giggled and politely declined. We were still full.
While we didn't sneak anything off the dessert table out of the brunch for my wife, we did offer up a couple of samples of Regine Fine Chocolate that were part of our place setting. That salted caramel is delicious, or so she tells me. And it's made here in Chatham.
Comments
comments