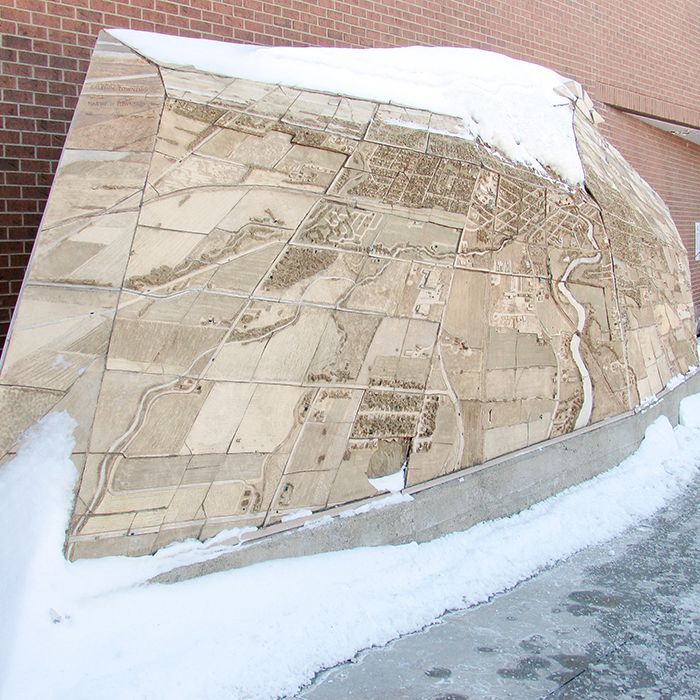 The stone mural in downtown Chatham is going to have a chance at finding a new home.
Chatham Coun. Derek Robertson entered a successful motion to allocate $5,000 for the safe disassembly of the mural and storage until a decision can be made on the restoration costs and new location.
Dan Warrener, the owner of the Downtown Chatham Centre, is doing renovations around the downtown mall and wants to remove the mural in order to continue this work.
LEADWAVE Technologies from Chatham Voice on Vimeo.
Don Shropshire, municipal CAO, said staff has been working on this since the fall.
"It has been a very time consuming piece," he said. "(Warrener) made the request back in the fall. We have an obligation to give Mr. Warrener an answer."
Staff had given council two options, the first recommending that the mural be moved and placed at Kingston Park in Chatham at a cost of $60,000. The other option was to set aside $1,000 and have the mural dismantled and discarded.
Chatham Coun. Anne Gilbert said the $60,000 was "kind of a shock.
"It has been a significant part of the downtown … why wasn't it in budget? Why wasn't it a part of the land transfer agreement. It is a significant part of Chatham history," Gilbert said.
Mayor Randy Hope said it is not possible to move the mural in one piece.
"We need to assess the restoration," he said. "The key is to take it down."
Dover farmers Henry and Lila Faubert created the mural in 1989 as a memorial to their son Larry, who died of muscular dystrophy several years earlier.
The mural depicts a panorama of church steeples, roads, farm machinery, highways and the Thames River.
Warrener requested the mural be removed by the end of March.