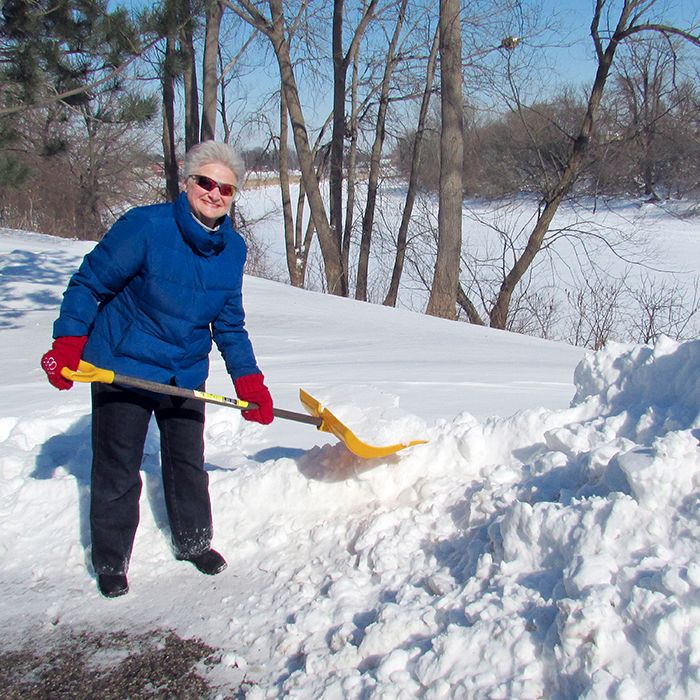 Chatham's Bev Perrin would love to see a few more folks sporting a shovel and a halo these days.
Perrin runs the Snow Angels volunteer program in Chatham. The group is comprised of volunteers who shovel the driveways and walkways of seniors and shut-ins around town.
Unfortunately, Perrin has more seniors and shovels than volunteering angels.
The Snow Angels have about 25 volunteers clearing snow for 40 seniors in Chatham. But there are other seniors who have sought shovelling support that the Angels just can't provide due to a shortage of manpower.
"In the last month, I haven't had any volunteers call. I've had to turn away about 15 or 20 seniors," Perrin said.
It's the sixth winter for the Snow Angels in Chatham. And it's been a wicked one.
"It's been a terrible winter. I'm so sick of snow," Perrin, a senior herself, said. "I also have my own senior I shovel, and so does my husband."
Perrin said this winter caught everyone off guard.
"We got spoiled the last two winters. Those years, we were out three or four times total each year, I think," she said. "But we knew this was eventually going to happen."
She said the blowing snow has been especially annoying this year.
"I've been out at least 10 or 12 times this year. With that wind we had in January, there were times I went out the next morning to check that it hadn't drifted," Perrin said.
Most of the Snow Angels are adults with full-time jobs, Perrin said. Some, such as Perrin and her husband, are seniors themselves.
When Chatham gets two or more inches of snow, the Angels have 24 hours to shovel.
James MacNeil, of Bowman Funeral Home in Chatham, supports the Snow Angels. He keeps extra shovels on hand at the funeral home for volunteers who need to borrow them.
"We've known Bev for years. She pretty much single-handedly tried to organize this," he said. "We try to assist, to shovel when we can, and we keep shovels here for people to borrow."
MacNeil is surprised at the lack of support for the Snow Angels program, especially from our youth.
"I'm always shocked at how few people do this. Definitely, it's the seniors that need the help," he said. "Even a high school kid who has to do the 40 hours of community service. Shovel three driveways for the winter. Those are volunteer hours."
Perrin is also disappointed so few high school students take part in the Snow Angels.
"I do have six or seven students. But out of four high schools, it's absolutely shameful," she said. "Students just don't volunteer. I e-mail the guidance department, the principals. I don't even get answers to my e-mails."
Perrin said the volunteers she has are very dedicated. One comes to Chatham from Blenheim to shovel out two seniors who live in St. Clair Estates at the north end of Chatham.
She just wishes more people would support the program so she could reach out to assist more seniors, and even have a few shovellers kept in reserve for the big storms.
"It would be nice to have three or four on standby. Every time it snows, I have seniors coming out of the woodwork asking for help," she said.
To volunteer, contact Perrin at 519-436-5139.
Comments
comments