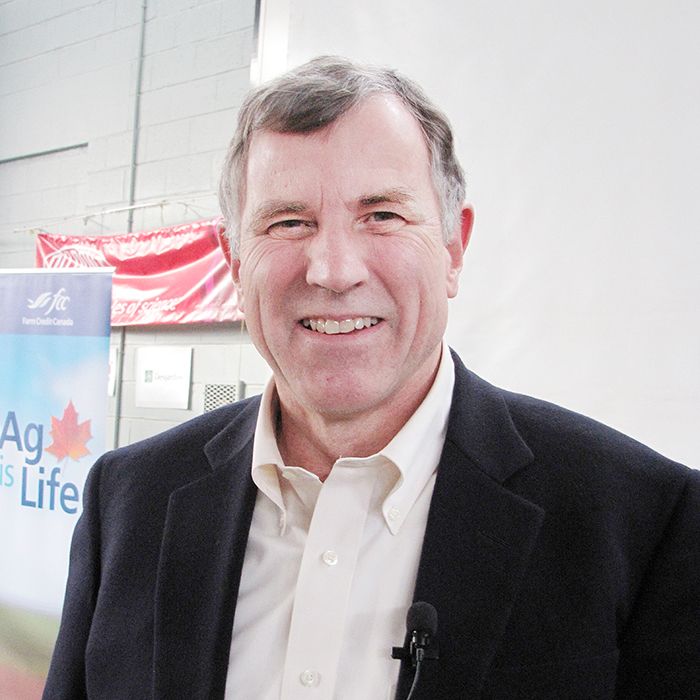 A Canadian who has been an astronaut, an aquanaut and an emergency room doctor sums up his amazing story in a six-word phrase: "Exploration: relentlessly seeking knowledge with passion."
The passion was clear as Dr. David Williams shared his experiences in space during a keynote presentation at the recent Southwest Agricultural Conference in Ridgetown.
United FloorsCabinets from Chatham Voice on Vimeo.
Currently the president and CEO of a hospital in Newmarket, Williams first wrote his six-word story as a student at McGill University in Montreal.
"Over the course my career I have come to realize that what I am is an exploration scientist and I like understanding how the human body lives and works in an extreme range of environments," said Williams.
The Saskatchewan native has seen his share of extreme environments.
Williams has the distinction being the first Canadian to live and work in an under-sea lab as well as in space.
He was a member of the crew of the Columbia space shuttle during a mission in 1998.
During his second mission, he flew aboard the Endeavour shuttle to the International Space Station where he took part in the three spacewalks, the most ever in a single mission.
As a child growing up in the 1960s, watching the early space flights on a black and white TV, being an astronaut was a lifelong dream.
"Dreams are all about what we challenge ourselves to do and think about those goals we have," said Williams. For me as a kid, I dreamt about becoming an astronaut, but I was told, 'you cannot become an astronaut because you're a Canadian."
When he was 12 years old, he turned his attention to exploring another frontier, taking up scuba diving.
Ironically, Williams went into space, before living and working in an under-sea lab.
"It just goes to show that when we challenge ourselves with our dreams, how life can turn out and it turns out sometimes quite differently than what we thought," said Williams, who was 44 years old when he blasted into space for the first time.
While he often talks about using endurance and persistence to overcome obstacles, his speech at Ridgetown was more about his journey, giving the conference attendees a personal view of all the aspects of a space mission.
Never giving up on his dream, Williams, who was previously the director of the emergency services department at Sunnybrook Health Science Centre in Toronto, applied to the Canadian space program, answering an ad in a newspaper in 1992.
"When you're a physician and you go into space, you're not only interested in what goes on in space, you're interested in all the changes that take place in your own body," said Williams.
He noted that his muscles were weaker, he lost bone density and he became osteoporotic every day he was in space.
"The changes you see in space are quite similar to aging, and one of the things that will be really interesting to learn from space is how we treat osteoporosis and help people when they're elderly," said Williams.
When it comes to flying aboard the shuttle and doing spacewalks, he said they're two completely different experiences.
Williams likened the shuttle experience to looking out the window while riding along the highway in a school bus.
The spacewalk is like a riding motorcycle and passing the school bus.
He noted they travel at 250 times the speed of sound in space. That works out to about eight kilometres a second.
In addition to exploring space and learning more about how the body reacts under extreme conditions, Williams said the experience was also spiritual, reminding him of the beauty and the gifts of earth.
"No matter how you feel about the environment, you look back at the planet and think we are so blessed to live on spectacularly beautiful planet," said Williams, who added the journey reminded him of a book he read several times when he was a medical student.
Written by poet Ted Rosenthal, who was in the final terminal stages of leukemia, "How Could I Not Be Among You," offered profound insights into the value of life.
A quote about living a lifetime in a moment, always stood out to Williams and he understood the significance when traveling in space.
"How we can live a lifetime in a moment and not be complacent about the tremendous joy and beauty that we have in our lives on a day-to-day basis," he said.