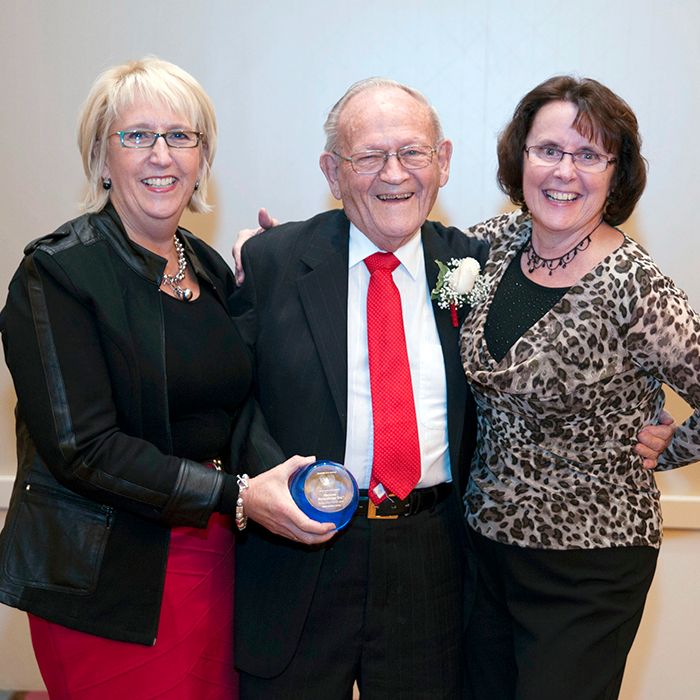 Michele Grzebien-Huckson, Executive Director, Foundation of CKHA; Frank Uniac; and Sandra Denomey, Chair, Board of Directors, Foundation of CKHA.
When Mary Uniac was dying from multiple myeloma three years ago this month, one of the last things she told her husband Frank was that, "If there's any money in my bank account, make sure it goes to charity."
Frank – who joked that early in their marriage he learned the best way to get along was to say, "yes, Mary," – did more than that. He's donated $2 million to local charities in her name.
"She was the best thing that ever happened to me," he said in an interview. "It feels like she's still with me every time I make a donation."
In recognition of his effort, Frank and his late wife were named Outstanding Philanthropists at the Association of Fundraising Professionals last week in Windsor.
The list of causes he has supported is impressive, and includes the Foundation of Chatham-Kent Health Alliance (CKHA), the OSPCA, Chatham Outreach for Hunger, YMCA, Chatham-Kent Community Foundation, Windsor and Essex County Cancer Centre Foundation, and the London Health Sciences Foundation.
Affinity Distinctive Jewellery 1 from Chatham Voice on Vimeo.
Last month, Frank was on hand for the opening of the Mary Uniac Health Sciences Centre at St. Clair College's Thames Campus in Chatham, a state-of-the-art facility for the college's nursing students.
Since 2010 the couple has funded the Frank and Mary Uniac Scholarships, which recognize a St. Clair student who displays a commitment through hard work and dedication to the community; and the Mary Christina Uniac Scholarship, which is given to a St. Clair College nursing student who embraces a passion for nursing and care for others.
Last December, Frank unveiled The Frank and Mary Uniac Auditorium at Chatham-Kent Health Alliance's Chatham Campus. This facility has provided Chatham-Kent Health Alliance with a place to meet and hold events throughout the year.
A Stratford native, Frank came to Chatham to play hockey for the Maroons in 1949 and the next year found work in the office at International Harvester, which became Navistar.
He worked as a supervisor at the plant for 31 years and operated a successful car wash business.
Giving was a way of life for the couple.  Frank was a member of the local chapter of the Canada Jaycees and was a founding member of the Chatham minor baseball and hockey.
In 2002, Frank was inducted into the Chatham Sports Hall of Fame, along with his fellow Chatham St. Clair Maroons teammates.  Mary was an active member of the Ontario Nurses' Association
When his hockey-playing days were done, Frank spent more than a decade with his good friend Bill Doyle, officiating in Ontario and the U.S., but it was Mary who was his passion for the 56 years they were married.
A graduate of the Public General Hospital nursing program, Mary worked at PGH and St. Joseph's Hospital before serving as plant nurse at Harvester for 32 years.
"She was something," he said fondly. "She was everything a man could ask for in a wife and companion. When I refereed my last game after 15 years, I came home from Fort Wayne, Ind.; the next morning, I had a quick shower, Mary ironed me a clean shirt and I made it to work by 7:10.
"We always supported each other in everything we did."
Travel and time spent in homes in the U.S. and on the St. Clair River with their beloved spaniel "Ginger" made their retirement pleasant.
When Mary knew that her cancer was terminal, the couple spoke of Frank's life alone.
"Mary wanted me to move into St. Andrew's Residence but it was one of the few times I told her no," he said. "With 95 women and only five men, I said I just couldn't keep up with demand" he said, laughing.
At 88, he still lives in his own home and his sharp wit belies his age.
Michelle Grzebien-Huckson, executive director for the Foundation of CKHA, has known Frank for years.
"I met Frank at my dad's funeral. They both worked at Navistar. He and Mary really embody the type of people who make Chatham-Kent a great place," she said. "He's been a super supporter and he's always been there when we need him."
Comments
comments
« Novice Thunder rock St. Marys tournament Major Peewee Cyclones fall in Essex »