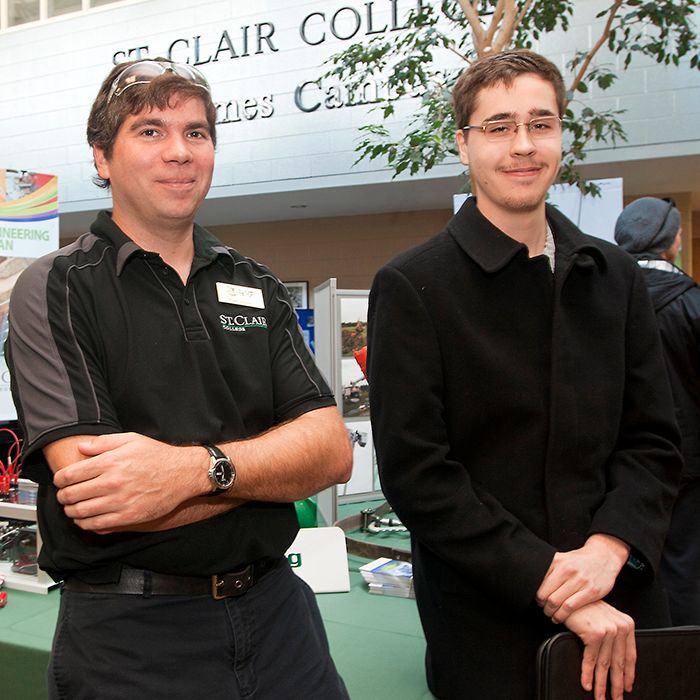 Hundreds of prospective students visited the St. Clair College Thames Campus on Saturday morning for its annual Open House event.
Many were joined by one or more parent who wanted to ask program coordinators and current students what opportunities are offered.
For sessional instructor Janis Huscroft and border services and police foundations co-ordinator Randy Hamelin, they say students and their parents alike all have a common concern.
"Am I going to get hired and will I get a job after I complete this program?" said Hamelin.
For Hamelin, who runs the popular, fast-track, 30-seat programs, he is hoping to expand that amount in the near future to keep up with demand.
With 1,900 Ontario Provincial Police officers retiring in the next 10 years, Hamelin says the program is likely to continue having a high success rate.
"There will be a huge influx in hiring for police officers," said Hamelin.
Hamelin says those looking to hire from his programs are looking for very specific students.
"We were talking to recruiters yesterday and they're looking for those who are motivated and taking the initiative to be in the community on a volunteer basis outside of their 40 hours base level," said Hamelin.
Due to the heavier and more hectic course load, Huscroft says the policing students at the college are mentally prepared and organized for most of the challenges they face during their schooling.
"These are kids who are in it to get a job," said Huscroft.
Huscroft says factors that contribute to the success of students in college are the hands-on nature of the courses and smaller-sized classes leading to a personalized experience.
Parent Tammy Lariviere who was with her 17-year-old son Mike looking at the PSW and policing programs at the open house had two concerns when it comes to choosing a post-secondary education.
"I want him to be happy for sure but also make sure there's a job when he's done," said Lariviere.
While he would prefer to stay in the local area, Mike says he would move if it would help him find a job after school.
"If it benefitted me, I would do it because it would be best for me," said Mike.
Learning more about the electrical engineering technician program at the college, 20 year-old Tom Somers says his high school dream of becoming a computer programmer isn't practical.
Instead, he is trying to strike a balance between finding a practical profession and still incorporating a portion of his interests.
"It's about finding a job where he can earn a reasonable income," said his mother Cheryl Somers.
"And enjoy it," Tom added.
Tom says more needs to be done to help students prepare for life after college.
"I've talked to a lot of people and there's no real life course on how to apply for a job or what to expect at an interview," said Tom.
Comments
comments